Europe's "refugee crisis" is a rhetorical misnomer that has cast refugees who risk the Mediterranean and Aegean crossings as security threats instead of seeing them as individuals desperately seeking help, said migration expert Professor Klaus Bade (pictured below).
In an exasperated commentary in "MiGAZIN," an online portal specializing in migration, Bade has accused Berlin of placating the public with security policy instead of working harder through "massive investments" to tackle the world's root causes of refugee flight, which have been evident for decades.
The so-called Balkan route, closed with "razor-sharp" wire across southern Europe, has become the EU's new "red line." A process that began in 2006, when Spain ran Operation Seahorse to stop migrants from Senegal, Mauritania and Cape Verde from reaching its Canary Islands, had only become more "gruesome," he said.
Humanitarian Europe turning "gruesome" says migration expert Klaus J. Bade
Sharpest criticism for de Maizìere
The veteran migration researcher, who has advised past German governments, reserved his sharpest remarks for Merkel's conservative ally Interior Minister Thomas de Maizìere, whom he accused of using legal "acrobatics" in the German-led push for a deal between the EU and Turkey's authoritarian President Recep Tayyip Erdogan.
The legal "trick" lay in Greece being asked to single-handedly declare Turkey as a secure third country, Bade claimed, so that tens of thousands of refugees could be "shoved back" outside the EU's external border and its Schengen zone.
De Maizìere's notions had become a "humanitarian security risk," said Bade, adding that many experts had long called for Germany's portfolios of migration and integration to be shifted to a new, separate ministry.
Spending billions in recipient countries close to flashpoints was sensible, Bade said. But the planned deal with Erdogan-ruled Turkey and "the semantic conversion of people seeking protection into 'illegal migrants' is, however, the scandalous high point of the war against refugees and a sad further example of the short step from taboo words to malpractices."
'Overcome egoism and divisions'
The intended deal amounted to trading in refugees as "commodities," Bade said, adding those who had not made it to Italy or Greece on boats "lie on the bed of the sea or drift, in lesser numbers, as corpses toward the Mediterranean coastlines."
Pietro Grasso, the president of the Italian Senate, said Wednesday that some 4,200 migrants had died trying to reach Europe since the beginning of 2015.
Earlier, Italy's parliament approved October 3 as the day of remembrance for the 2013 shipwreck off the southern Italian island of Lampedusa, in which 366 migrants died.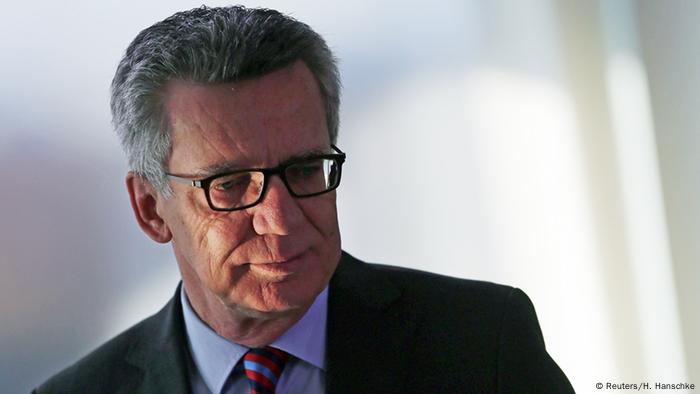 De Maizìere's notions had become a "humanitarian security risk": Bade
Grasso urged Europe to "overcome egoism and divisions" and come up with a plan to help migrants make the journey safely.
Under the tentative EU plan, due to be discussed at a leaders summit in Brussels on Thursday and Friday, Ankara would allow Greece to return migrants to Turkey while Europe would open new routes for pre-screened "legal" migrants in exchange for 6 billion euros ($6.7 billion) and an easing of visa requirements for Turks entering the EU.
Crisis being outsourced
Bade said Germany's post-war constitutional guarantee of asylum remained on paper but was being coldly "neutralized" by Berlin's strategy of "externalizing" the issue to the EU's maritime border between Greece and Turkey.
Heading NATO's new mission - officially to deter people smugglers - is the new German naval supply ship "Bonn" - named after the former German capital that paradoxically hosts UN agencies and other organizations focused largely on ameliorating trends that cause migration.
NATO's task in the "few nautical miles" between western Turkey and Greece's Aegean islands was minimal compared to the much larger and more risky route still being used by migrants between Libya and Italy, Bade added.
'Historical scandal'
Until 2012, Bade chaired the Expert Council of German Foundations on Integration and Migration that grew out of Osnabrück University's migration research team, which argued for clear policy separation between structured immigration and emergency help for asylum seekers.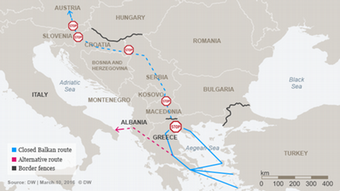 Quoting from a 2000 memorandum, Bade said Europe's repulsion of refugees and its failure to adequately tackle migratory causes in "Third World" countries had amounted to a "historical scandal," given the lessons from the "disgrace of Evian."
Bade was referring to the US-organized meeting at the French Lake Geneva resort in 1938, when envoys from 32 nations largely failed to agree on rescue measures for Jews trying to escape mounting repression in Nazi Germany and Nazi-occupied Austria.
"The verdict in the future will be a terrible one: No one will be able to again say that he did not know it all. Whoever knew about it and raised no objections has made himself complicit," said Bade.
Because of anxiety about present-day neo-Nazis "not only a few in the German political elite circles" appeared to have suppressed memories of those "illegal" escapes of people from former Nazi-Germany, he added.
Speaking with the Protestant church news agency EPD, Bade called for a world refugee conference and the declaration of a world refugee decade.
Europe must come to the aid of countries from whom most refugees originated, with "massive investment," Bade said, "so that the European Union can again establish a political consensus and function effectively."