Heiko Maas told German media group "Funke" on Thursday that "anyone who believes they can breach law and order must be punished - no matter where they come from."
Apart from deportation, asylum seekers could also face conviction and imprisonment of at least one year, even during an ongoing asylum procedure, the justice minister said. Authorities, including Mass, have warned that they do not yet know whether any of the culprits were refugees or asylum seekers.
Maas called on German authorities to respond to the assaults "with the utmost determination, but also prudence."
"This includes first determining the facts and the perpetrators as precisely as possible," the minister said, adding that all perpetrators must be punished for their "vile deeds."
"That is what we now owe the victims above all else."
German Justice Minister Heiko Maas has said deportations are "completely conceivable"
Similarly, German Interior Minister Thomas de Maiziere called upon all people living in Germany to recognize the equal rights enjoyed by women and threatened foreign offenders with deportation.
"Anyone who commits serious crimes must reckon with getting deported from Germany, regardless of his status," de Maiziere said on Wednesday. He also hinted at changing laws to prevent criminals from getting asylum in Germany.
Pickpocket arrests
Thursday's comments from the German justice minister came as police in Cologne began investigating five initial suspects. The men were apprehended on charges of pickpocketing, and the arrests were not made in connection with incidents of sexual assault at the Cologne central station on New Year's Eve, a police spokesman said.
Officials said 106 complaints had been registered so far, around 75 percent of which were related to sexual assault, the officers said. In the early hours of January 1, around 90 women were allegedly robbed, threatened, or sexually molested at the New Year's celebrations outside Cologne's cathedral by young, mostly drunk men. One rape was also reported to police.
Police in the state of North Rheine-Westphalia have faced huge criticism in light of last week's assaults, with de Maiziere accusing officers of waiting passively while the attacks were taking place.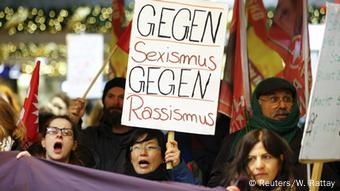 The debate following the attacks has focused on violence against women and rising refugee numbers
"The square was evacuated - and then these events take place and [the police] wait for people to bring them complaints. That's not how police must work," he told ARD public service television.
Refugee row
Amid the simmering row over refugees in Germany, politicians have also come under scrutiny from the public, with some Germans claiming that politicians are using the Cologne attacks to their own political advantage.
"Some of them want to create refugee quotas; others want to increase the amount of asylum seekers - and these poles also exist among the German public," one woman called Tanja told DW's Dana Regev in Cologne.
"And it's a positive thing at the end of the day that you get these opinions which balance each other. But you know who is forgotten at the end of the day. Women themselves. The ones who will experience this also after the media hype is over."
ksb/se (AFD, KNA, Reuters)