With North Rhine-Westphalia's huge Carnival season just four weeks away, the city's mayor Henriette Reker said on Tuesday that the initial focus would be on preventive measures to ensure that the upcoming festivities don't see a repeat of Cologne's recent New Year celebrations.
In the early hours of January 1, around 90 women were allegedly robbed, threatened, or sexually molested at the New Year's celebrations outside Cologne's cathedral by young, mostly drunk men - many of whom were described as being of "Arab or North African origin." One rape was also reported to police.
'Code of conduct'
With this in mind, Reker proposed a "code of conduct" for young women and girls, "so that such things do not happen to them." An updated version of the current code will soon be available online, the mayor said.
Among the guidelines was the suggestion to maintain an arm's length distance from strangers, something which was met with a huge backlash of sarcastic criticism on Twitter, mocking Reker and the code of conduct.
By late evening on Tuesday, #einearmlänge - which translates as "an arm's length" - was one of Germany's top-trending hashtags.
One Twitter user @Nurit77Sara wrote: "I demand that a women's bus is available from tomorrow. Otherwise I won't be able to carry out #einearmlänge."
Another, Birgit Haase, tweeted: "I have short arms. Will that be a problem for me then in the worst case scenario?"
Other recommendations for women and girls attending large public events included staying within their own group. In case of emergency, they are also recommended to ask bystanders for help, and as witnesses, they should intervene or inform police.
Reker added that there should also be a code of conduct for Carnival revelers "from other cultures ... so as not to confuse what is cheerful behavior in Cologne and what has nothing to do with openness - particularly sexual openness."
In addition to the online response, around 200 to 300 people gathered in front of Cologne Cathedral on Tuesday evening, according to police estimates, and demanded more respect for women. One demonstrator held a sign which asked: "Mrs Merkel, where are you? What do you say? This makes us scared!"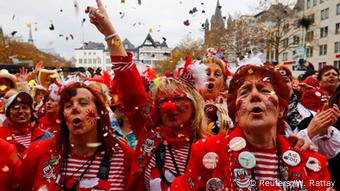 Officials will hope there is no repeat when Cologne's Carnival weekend comes around
Germany questioning refugee influx
The German government has strongly condemned the crimes, and expressed its shock over the apparently organized sexual assaults, with Chancellor Angela Merkel calling for a thorough investigation of the "repugnant" attacks.
Germany's interior minister, Thomas de Maiziere, also criticized North Rhine-Westphalia's police for how they handled the sexual assaults and demanded to know how on New Year's Day, they were able to say that celebrations had been "peaceful."
"The police cannot work like this," de Maiziere said on Tuesday, adding that he awaited a "clear, hard answer" from authorities.
Justice Minister Heiko Maas said the assaults represented "a new dimension of crime that we will have to get to grips with."
Asked by a journalist whether refugees were behind the rampage, Maas said police were still working to identify the attackers.
Green Party politician Claudia Roth warned the German public against blaming refugees for the "intolerable" crimes. But reaction to the incident was swift on social media, with many users both in and outside Germany linking the events to country's unprecedented refugee influx.
ksb/rc (Reuters, AFP, AP, dpa)