An hour into the New Year, Anna (name changed) and her friend were stuck in a huge crowd blocking the entrance to Colonge's main train station when a quarrel erupted about a stolen wallet - this was a ruse, they later believed.
The two women tried to get through the crowd, but were pushed and squeezed from all sides, and suddenly "someone had his hands between my legs, but we managed to get away before anything worse happened," Anna told DW.
Inside the station, Anna noticed that her cellphone was gone and went to the police station to report it stolen. "There were lots of girls, all crying uncontrollably," she remembered. The police, clearly stressed, told her to report the theft elsewhere.
"I was really angry at the unfriendly treatment, it's their responsibility to take action and the sheer number of complaints that night should have given them an idea of what was going on," she said.
Shocked and alarmed
There has been been serious fallout from the incident, with intense criticism of the reaction from Cologne's police. Measures are being taken to make sure something like this never happens again, Mayor Henriette Reker told a news conference after a crisis meeting with authorities on Tuesday.
The city's chief of police Wolfgang Albers admitted the police had been wrong in its initial assessment of the situation on New Year's Eve, which they had described as "relaxed" but for a few people firing fireworks into the crowd.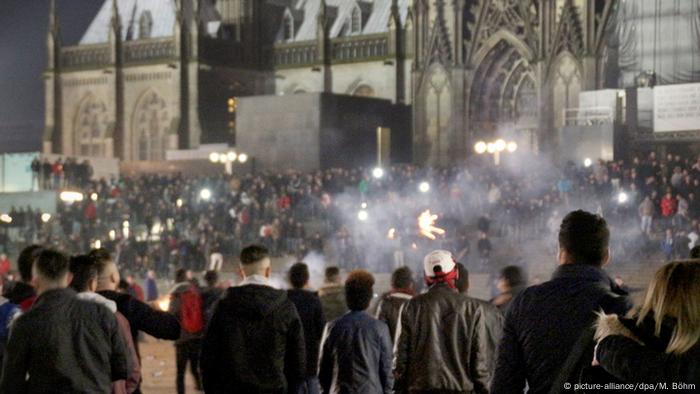 Shocking reports of New Year's Eve in Cologne are making the rounds
Albers also admitted the police have no suspects and knowledge at all about the perpetrators, except that they are thought to be aged between 18 to 35.
Plans to show presence
For the upcoming Carnival festivities in early February that traditionally draw hundreds of thousands of people into town, the police plan to show up in force and to set up temporary mobile video surveillance.
"We will also have to explain our carnival better to people from other cultures, so that there's no confusion about the cheerful behavior in Cologne that has nothing to do with candor, especially open sexuality," Reker said.
An unknown number of young men from a throng of up to 1,500 are thought to have attacked and sexually assaulted women on the square in front of station, a few steps from the many bars, restaurants and discos in downtown Cologne.
By Tuesday, the number of criminal complaints of sexual assault and robbery filed with the Cologne police department had risen to 90, while one rape was also reported. The victims mostly described the men as being of Arab or North African appearance.
The assaults are all the more shocking because they happened in one of the city's busiest spots - thousands of commuters and tourists cross the square beneath the towering cathedral every day.
Both Chancellor Angela Merkel and Justice Minister Heiko Maas condemned the assaults, the latter describing the incident as a "completely new dimension of organized criminality."
Blatant groping, theft
The state's police union leader Arnold Plickert said there had been similar incidents in Hamburg and Stuttgart on New Year's Eve, though to a much lesser extent.
Calling the crimes "a massive attack on basic rights," Plickert said he was not aware of anything like this happening before in Germany, but he warned against exploiting the incident to stir up anti-refugee sentiment.
Green Party politician Claudia Roth also warned against blaming refugees for the "intolerable" crimes.
But reaction to the incident was swift on social media, with many linking the events to Germany's refugee influx. This only makes the challenge of the crisis greater, law school student Joschua said. "I'm worried, and don't know what to do. But we must soldier on."
Meanwhile activist Patrick said it's strange "that the police appear not to have realized what was going on."
Prevent 'lawless zones'
The police are currently analyzing footage from surveillance cameras as well as from photos and videos victims and witnesses took on their smart phones. But the police say it was impossible to catch perpetrators at the scene since the square was too crowded for victims to recognize the men.
For months, Cologne police has had an eye on groups of young North African pickpockets operating in Cologne in groups of three or four. A big organized group like the one on New Year's Eve, however, is something "totally new," police investigators said.