Cologne police chief Wolfgang Albers on Wednesday ruled out stepping down amid criticism of alleged police inaction while dozens of women were sexually assaulted and robbed in the center of the city on New Year's Eve.
Albers told WDR5 public radio, "I think I am needed here, especially now."
Albers admitted, however, that upcoming Carnival festivities in the city from Febraury 4-10 could pose a security challenge.
"We will put up a good deployment, and I'm needed there as well," he said.
Interior Minister Thomas de Maiziere earlier strongly criticized the Cologne police force, accusing officers of waiting passively by while the attacks were taking place.
"The square was evacuated - and then these events take place and [the police] wait for people to bring them complaints. That's not how police must work," he told ARD public service television.
'Unaware of attacks'
Police said they tried to clear the square in front of Cologne's main train station after a crowd of some 1,000 men began throwing fireworks about. They reported that the sexual assaults and robberies of which they claimed to be initially unaware started after a number of smaller groups of men surrounded and molested female revelers.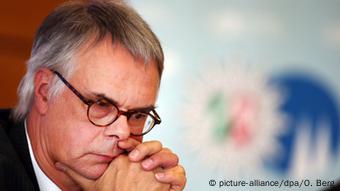 Albers wants to stay with 'his' Cologne police
So far, some 100 complaints by women of sexual assault and/or robbery have been received by police, some of them filed several days after the incidents took place - possibly partly due to the fact that some two-thirds of the victims were not from Cologne itself. A plain-clothes police woman was reportedly among those attacked, and at least one rape was reported.
Police quoted witnesses as saying that the men "appeared to be of Arab or North African origin."
Attacks 'not new'
Amid some reports that the attacks might have been coordinated, Justice Minister Heiko Maas spoke of "a new dimension of crime that we will have to get to grips with."
Maas's assessment of the situation as "new" was contradicted by the chairman of the police union BDK, Andre Schulz, who said these types of attacks have long been familiar to police.
"Anyone who speaks of a new dimension of organized criminality is either wrong, or lacks criminalistic and criminological knowledge," Schulz told the daily "Handelsblatt" newspaper.
The Cologne local newspaper "Kölner Stadt-Anzeiger" said many of the suspects were already known to police for their involvement in a spate of pickpocketing and muggings near the railway station, which is situated next to the city's famous Gothic cathedral.
Migration debate
In his interview, Maas declined to say whether refugees were responsible for some of the attacks, saying police were still trying to identify the assailants.
"This is not about where someone is from but what they did."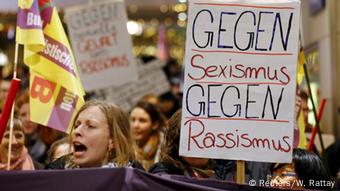 A protest was held in Cologne Tuesday night. This woman's sign reads 'against sexism, against racism'
Maas also warned against letting outrage about the events of New Year's Eve spill over into the debate on Germany's refugee policy, with 1.1 million asylum seekers coming to the country in 2015.
"Making an issue out of it, lumping it together with the refugee issue, is nothing but exploitation. Now is the time to determine the facts and then decide on the necessary consequences," he said.
Fuel to the fire
The right-wing populist Alternative for Germany (AfD) party has been one of several groups to seize on the attacks as fuel for its anti-migrant rhetoric.
"Here we see the appalling consequences of catastrophic asylum and migration policies on Germany's everyday realities," said party leader Frauke Petry.
Chancellor Angela Merkel called on Germans in her televised New Year's address to continue welcoming refugees despite growing criticism, including from within her own conservative bloc, that Germany could be overwhelmed by the migrant influx. She also warned against far-right ideologues who were trying to foster anti-migrant sentiment.
Merkel called on Tuesday for a thorough investigation of the "repugnant" attacks.
tj/se (dpa, AFP, Reuters)