Linda W., the 16-year-old German girl who ran away from her home near Dresden to join the so-called "Islamic State" (IS) in Iraq, could face three and a half years in prison under Iraqi law for her illegal border crossing alone, Iraqi journalist Amir Musawy told DW on Monday.
Musawy, who was given special access to interview Linda, said that she "definitely" wanted to return home, and appeared unaware of the gravity of her situation.
"I think she is still thinking like a child ... who does not understand what happened and what might be waiting for her," Musawy said, describing her as "exhausted" and "unnerved" by the selfies Iraqi soldiers had wanted to take with her.
A German prosecutor has said that the girl might even face the death penalty in Iraq if tried there and found guilty of terrorism-related offenses.
'I just want to leave'
In an interview held by Musawy in Iraq at an undisclosed military hospital in Baghdad, which was commissioned by the respected daily Süddeutsche Zeitung (in German) and public broadcasters NDR and WDR (in German) and published on Sunday, Linda had said she regretted her decision to run away
"I just want to leave," Linda W. is quoted as saying. "I want to get out of the war, away from the many weapons, the noise." This image of the German girl circulated on social media
Read more: German teenage runaway suspected of joining IS found in Iraq
The girl, who was 15 when she fled Germany, told reporters it took her a month travel to Turkey, through Syria and into Iraq to marry an IS fighter.
She said she did not want to go to Mosul, but that she was "shipped" there and her husband was killed soon afterwards.
The girl said she had been hiding in a cellar near the River Tigris. When Iraqi soldiers found her they assumed she was part of the Yazidi minority, who are often held as slaves by IS. She was reportedly annoyed by this assumption, saying "I am German."
Read more: German police investigate women found in Iraq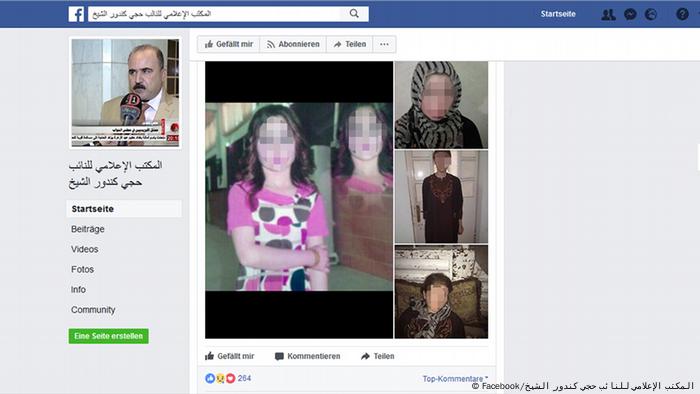 The girl was reportedly first mistaken for a Yazidi woman who are often kept as slaves by IS
Willing to cooperate
At the time of the interview Linda W. had not yet been interrogated, but told the reporter she wanted to cooperate with investigators. An Iraqi judge ordered that she be medically treated first.
Linda said she was doing well despite a shrapnel wound in her left thigh and damage to the right knee. "This comes from a helicopter attack," she said.
Read more: Interpol releases list of 173 potential IS bombers who could be in Europe
The brief interview was conducted in the presence of a soldier, an American paramedic and the investigating prosecutor.
The girl was reportedly first taken to a general hospital but authorities said they could not guarantee her safety there, given many victims of IS were being treated there too.
Family happy she is alive
Linda's sister Miriam W. told reporters she was simply "happy that she is alive."
Fellow wounded German IS-wife Fatima M. was also at the hospital at the time of the interview.
Fatima M. reportedly fled from Chechnya to Austria at the age of fifteen, and then married a German national, Mogamed A. The family, including two children, later joined IS and traveled to Mosul. She told the reporter that her husband died several months ago and that her children were missing after a coalition airstrike.
Read more: Iraqi armed forces out for revenge in Mosul
On Saturday German prosecutor Lorenz Haase confirmed that Linda W. had been found in Iraq and was receiving assistance at the German consulate in Baghdad.
He said there was a possibility that Linda might be put on trial in Iraq or that she also might be expelled for being a foreigner. In Iraq, she could face the death penalty if convicted of terrorism-related offenses.