Bonn, March 1965. Tension and excitement were in the air in the government district. Would the German government start up diplomatic relations with Israel? That was the question being discussed behind closed doors.
"There were hundreds of us journalists in front of the [governing party] Christian Democrat office where the decisions were made," remembered Inge Deutschkron, a journalist who was reporting for the Israeli daily Maariv from the former West German capital at the time. "We were there for hours."
Deutschkron, who is 92 today, told DW that the negotiations dragged on for days. Time and time again, the doors would open and a spokesman would come out to put off the journalists for another day. "He told us: 'We won't get there today, you'll have to come back tomorrow.' This went on for days," she said.
Deutschkron, who survived World War II underground in Berlin and worked as a journalist in Israel and Germany for decades after the war, can recall the events of 50 years ago with surprising precision. To this day, she can hardly understand why it took Bonn so long to give in to Israel's proposals.
"That was indeed strange," she mused. "Chancellor Erhard really didn't know what he was supposed to do." Resolutely, she added that she found this "laughable."
Erhard's dilemma
Israel had been pressing West Germany for some time to turn the informal contacts, in place since the 1950s, into full diplomatic relations. But the German government hesitated.
"They didn't want to do it because of the Arabs, who had threatened to sever their relations with Germany," said Deutschkron. "Trade relations with the Arab world were too important."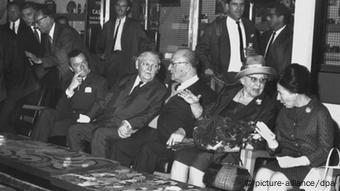 Chancellor Ludwig Erhard with ambassador Rolf Pauls and Israeli PM Levi Eshkol in 1967
But it wasn't just about business. The big topics just under the surface were prestige, Germany's position in the Arab world and German separation. Erhard, the West German chancellor from the conservative Christian Democrats (CDU), faced a political dilemma.
Walter Ulbricht, first secretary of the Socialist Unity Party in East Germany (GDR), paid a state visit to Cairo in February 1965. He was invited by Egypt's then head of state, Gamal Abdel Nasser, after it was revealed that West Germany had been supplying weapons to Israel. The fact that Egypt welcomed Ulbricht as the head of state of the GDR rocked Bonn's claim of solely representing Germany.
At the same time, Erhard faced foreign and domestic pressure to end the weapons delivery to Israel, and the start of diplomatic relations was seen as adequate compensation. The final decision came on March 6, 1965.
According to Deutschkron, Erhard arrived at a conclusion on his own after learning that certain parties in the US, especially Jewish circles, were annoyed about West Germany's hesitant stance. "When he heard that, he told his cabinet they weren't needed any longer," she said.
Former Wehrmacht officer as ambassador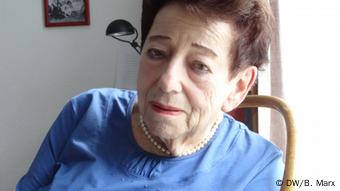 Deutschkron vividly remembers the events of 1965
Career diplomat Rolf Pauls (man on the left in the top photo) was the first German ambassador sent to Tel Aviv. The first Israeli ambassador, Asher Ben-Natan, officially started his work in Bonn a few days later.
Surprisingly, Paul's earlier career as an officer in the Wehrmacht, Nazi Germany's armed forces, wasn't an obstacle to his becoming ambassador - though it wasn't ignored in Israel. He was met with angry insults, with protesters yelling "Pauls go home!" upon his arrival.
Deutschkron also believes he was the wrong choice. "He was honored for being such a great fighter in Hitler's army; he didn't belong in Israel," she said, adding that she harshly criticized Pauls' designation as ambassador in her Israeli paper.
But she was even more scandalized by the choice of Pauls' deputy, Alexander Török. The former Hungarian fascist received German citizenship in 1950 before ending up in the West German diplomacy. Deutschkron said she couldn't believe the country's insensitivity toward Israel - just 20 years after the end of the Holocaust.
In her memoirs, the journalist called the start of the diplomatic relations between Germany and Israel "embarrassing."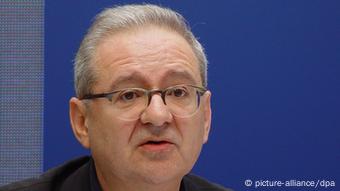 Diner believed the reparations agreement was more important than the start of diplomatic relations
Crucial reparations agreement
But taking up diplomatic relations in 1965 was only the formal act, said Israeli historian Dan Diner. The "actual beginning of German-Jewish-Israeli relations" was the Luxembourg Agreement 13 years earlier, according to Diner.
The Reparations Agreement between Israel and West Germany was signed in 1952 by both sides. In it, Germany pledged to pay damages and supply goods and services worth a total of 3.5 billion German deutschmarks to Israel.
"This was crucial for West Germany to be accepted into the family of nations again," said Diner in a DW interview. He added that the agreement was West Germany's first bilateral contract, entered into when the country was still only a half-sovereign state.
In his recently released book "Ritual Distance," Diner describes the cold atmosphere at the signing of the agreement, where delegations from both parties met silently without shaking hands or giving speeches.
"It was mostly staged and an expression of the previous two-day debate that took place in the Israeli parliament in January," Diner said. "That debate was the most important one ever to be held in the Israeli parliament."
According to Diner, the question of whether to accept reparations from Germany sparked a heated discussion in the Knesset and deeply touched the self-concept of the young state of Israel just a few short years after it was founded, a mere seven years after the end of World War II.