The term "miracle" was used frequently in the Bundestag on Thursday (May 7). "The success of our friendship is nothing less than a miracle," Foreign Minister Frank-Walter Steinmeier said on the subject of today's close relations between Germany and Israel. By no means, he continued, was it a matter of course that Germans and Israelis were now "literally dear to each other's heart." Overcoming the "abyss of the past," the nation of victims had reached out its hands to the nation of offenders, the foreign minister said about the difficult start of that friendship, which has its roots in an exchange of ambassadors in May, 1965.
Initial skepticism
At the time, the governments of both nations were considerably unsure about a possible rapprochement. When Willy Brandt became the first West German chancellor to visit Israel in 1973, "every single step was still rather awkward," recalled the foreign minister.
Today, he went on, an exchange of visits and joint cabinet sessions had become routine. Not just the governments, the people as well were involved in close interaction: thousands of young Israelis love to live in Berlin, while many Germans feel at home in Tel Aviv or Jerusalem. "The relationship between Germany and Israel will always be a very special one," stressed CDU politician Gerda Hasselfeldt.
Fighting antisemitism
All parliamentary parties were in agreement that, in order to consolidate present achievements, special efforts were required on Germany's part.
Firstly, remembrance of the Holocaust had to be kept alive, despite the dwindling number of contemporary witnesses. "A clean break debate is out of the question," said Volker Kauder, parliamentary leader of Chancellor Angela Merkel's conservatives. It was essential for Germans to remember the crimes of the past, he stressed.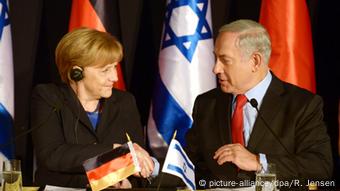 Government consultations in February 2014: Angela Merkel and Benjamin Netanyahu
Secondly, action must be taken against all forms of anti-semitism to make sure that Jews in Germany can live in safety. "It is cause for concern that during the past year anti-semitic criminal offenses increased by 25 percent," said Green Party parliamentary leader Katrin Göring-Eckardt: "That's a disgrace to our nation."
And finally, the German government is obliged not to lose sight of Israel's security concerns, first and foremost with respect to the Iran nuclear talks. "Eventually, we will only sign an agreement leading to more security for Israel, not less," Foreign Minister Steinmeier emphasized.
Insisting on two-state solution
The German Bundestag considers the friendship with Israel so solid that there is enough room for criticism, particularly with regard to Jewish settlement construction in the occupied territories and the ambiguous stance of the current Netanyahu government on the subject of a two-state solution.
"Without a viable, democratic Palestinian state," Steinmeier said, "there will be no sustainable security for Israel." The German government had to bring "more passion" to the issue, demanded Left Party parliamentary leader Gregor Gysi: after all, the Palestinians were entitled to their own state as well.