Fielding a question about imposing sanctions on Moscow, German Chancellor Angela Merkel's spokesman Steffen Seibert said that all options needed to be considered, but that Berlin's main priority was achieving a ceasefire deal.
"Given the appalling situation in Aleppo, for which there are no words, given the ongoing escalation of violence, the reports of atrocities leading up to war crimes, and the ongoing suffering of the civilian population, we understand that all options need to be considered," Seibert said.
His comments come after Norbert Röttgen, a member of Merkel's Christian Democrats who chairs the foreign affairs committee in Germany's parliament, accused Russia of being complicit in war crimes in Syria. Reports suggest that the Assad regime, supported by Moscow, last week bombed a key hospital in Aleppo.
Röttgen told German daily the Süddeutsche Zeitung that Russia's responsibility for the escalating violence in Aleppo was beyond doubt, and that "a lack of consequences and sanctions for the most serious war crimes would be a scandal."
"Imposing economic sanctions wouldn't work in the short term, but in the long term they would certainly have some influence on [Vladimir] Putin's subsequent calculations," he said, adding that military intervention would be the wrong approach.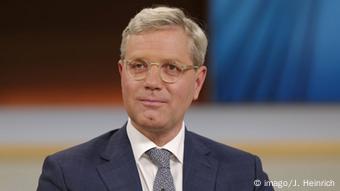 Foreign Affairs Committee chair Norbert Röttgen
Merkel weighs in
Meanwhile, German Chancellor Angela Merkel on Friday urged Russia to help bring about an end to the violence in the Syrian battleground city.
"It is atrocious what is happening in Syria," Merkel said at a delegation for Germany's foremost senior citizens union. "We must do everything in our powers to achieve a truce deal and provide aid for the people in need... I can only appeal to Russia, since it has significant influence over Assad: We need to end these heinous crimes as soon as possible." Merkel also said that international law forbade attacks on hospitals.
No international proposals for further sanctions
European Parliament member Elmar Brok, another CDU politician, had previously called for sanctions. However, senior European diplomats have signaled that sanctions could prove an extremely difficult task for Europe.
Ahead of a meeting of Western officials in Berlin on Wednesday, a spokesperson for Germany's foreign ministry confirmed that there were currently no international proposals to impose sanctions against Russia.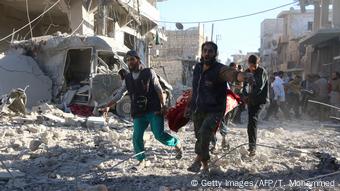 Aleppo could be totally destroyed by the end of the year if violence continues
The European Union imposed sanctions against Russia in 2014 for its role in the annexation of the then-Ukrainian peninsula of Crimea. Röttgen criticized Europe for not clearly condemning Russia's involvement, saying that "the least that Europe should do is use clear language which calls a war crime a war crime."
Since the ceasefire deal brokered between the United States and Russia collapsed around two weeks ago, Syrian forces have used extreme violence to seize control across Aleppo with civilians bearing the brunt of the fighting.
The UN's Syria envoy Staffan de Mistura said on Thuesday and if fighting between the Syrian government and rebel forces did not halt, eastern Aleppo could be totally destroyed by the end of the year.
dm/msh (Reuters, dpa)