Germany's freshly-minted Finance Minister Olaf Scholz sparked one of the first internal conflicts of Angela Merkel's new government on Wednesday by offering the Defense Ministry only half of the money it had asked for.
This meant that Scholz followed the party line set out by Merkel's junior coalition partner, the Social Democratic Party (SPD), who argue that the German military's current problems – there have been continual reports of hardware shortages and breakdowns – are down to mismanagement rather than a shortage of cash.
Presenting his 2018 budget, the "cornerstones" of his 2019 budget, and his plans up to 2021 in Berlin on Wednesday, Scholz confirmed that both Defense Minister Ursula von der Leyen and Development Minister Gerd Müller had submitted written objections to his budget plans, and explained that they would need more money.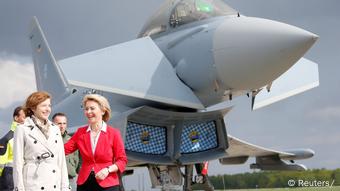 Ursula von der Leyen and her French counterpart Florence Parly presented a new European air defense project last week
The Defense Ministry has calculated that only a fifth of its needs would be covered by the new budget in the coming years. "Then we can only hope that there will be enough money there in the future," Scholz said. "Of course no one who says they need more money doesn't have good arguments for it."
Development Minister Müller said that while he was "very satisfied" with the 2018 budget, he warned that the plans for the following years would "not cover the demands," pointing in particular to Germany's commitments to fighting "the causes for migration" in Africa and the rebuilding of Iraq.
Read more: Bundeswehr short on tanks for NATO mission
More money, more weapons
Scholz, who held up graphs in the press conference showing the continual rise in Germany's defense budget, announced that Germany would spend €38.5 billion ($46.3 billion) on defense in 2018, €1.5 billion more than last year, and €41.5 billion in 2019. "That's a massive improvement," he said. "There has been a turning point in the last few years. I think some earlier people in office would have been very pleased with such an additional investment power."
But Merkel's center-right Christian Democratic Union (CDU) have been supporting the demands made by CDU Defense Minister Ursula von der Leyen, who, according to the Bild am Sonntag newspaper, wanted an extra €12 billion until 2021. Scholz, however, was only prepared to offer €5.5 billion, the paper said.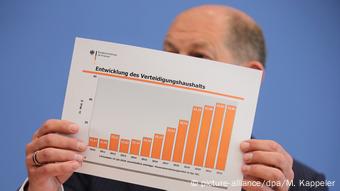 Olaf Scholz holds up a graph showing Germany's defense spending from 2010 to 2022
Von der Leyen gave her own statement immediately after Wednesday's cabinet meeting, when the budget plans were decided, to say she had got a "good result." But she warned that, for the budget planning up to 2022, it was important to "create solid financial prospects." Fighting terrorism and securing the European community were "all issues that will be of great importance in the next few years, and which will need a solid financial foundation."
Wolfgang Steiger, general secretary of the CDU Economic Council, also said the Bundeswehr needed more money: "The current draft budget won't meet the growing challenges facing Germany and Europe," he said in a statement released Wednesday morning. "The foreign and security policy circumstances have all worsened significantly in the last few years, so that our country must face up to greater international duties and take on more responsibilities."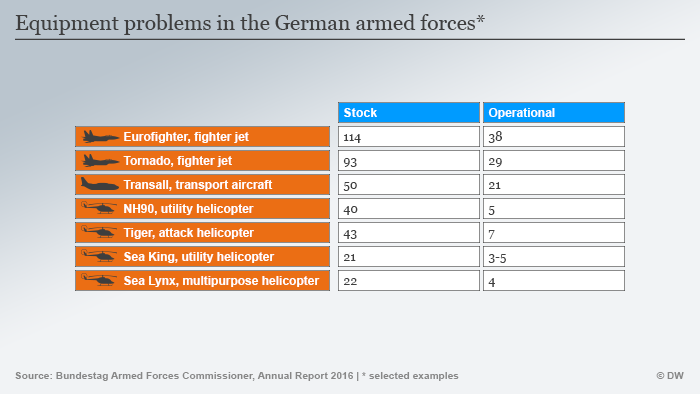 Read more: US-German conflicts - what you need to know
Trump pressure
Germany's defense budget has become a touchy subject internationally ever since Donald Trump took over the US presidency. In March, the president once again claimed that Germany "owed billions" to NATO over its relatively low defense budget.
That wasn't entirely accurate. It is true that last year Germany only spent 1.13 percent of GDP on defense - far below the 2-percent target agreed by NATO in 2014 - but NATO also gave its members until 2024 to reach that goal, and Berlin has already vowed to meet that commitment. The issue came up again during Merkel's meeting with Trump in Washington last week.
Germany's opposition parties, meanwhile, have condemned the Defense Ministry's calls as a capitulation to the US. "Ursula von der Leyen's demands are an embarrassing prostration to Donald Trump and an attempt to curry favor with the arms industry," Left party deputy chairwoman Gesine Lötzsch told the Kölner Stadtanzeiger newspaper.
In Wednesday's press conference, Scholz flatly denied that the pressure from Trump had any influence at all on the negotiations about the defense budget. The cornerstone plan for 2019 is due to be approved by parliament in the fall.
But the fact that the German military is lagging behind its NATO partners has been obvious for some time. "The problem is that over the last few years - in fact almost the last two decades - the defense budget has been driven down - it was always been about spending less, reducing the size of the Bundeswehr, and saving money on materiel," veteran German defense policy correspondent Thomas Wiegold told TV network RTL. "Turning that trend round is a task that will take a while."
"The main problem is simply spare parts - in the past the ministry would save a few hundred million on these because they figured: oh, we'll be able to order them in future," he added. "But now that the money is there and the parts are ordered, it can take two, three, four years - because they are very specialized parts."