An umbrella as a last resort - it's only 12 noon, but the sun is already beating down mercilessly on the many thousands of guests in the beautiful park of Bellevue Palace in Berlin. In the 30-degree-Celsius (86-degree-Fahrenheit) muggy midday heat, umbrellas are being repurposed into parasols. Is the unusually high temperature a sign of climate change?, some wonder, as they try to track down a drink of water.
Despite the heat, German President Joachim Gauck is taking the time to learn more about climate protection, renewable energy, biodiversity and electric mobility at the many booths.
"I have come to learn. This is about presenting innovative ways to protect the climate," he explains - and then admits that he isn't the biggest environmentalist himself.
"I ride a bike, I separate my garbage - but I could certainly do more," Gauck says self-critically, and points to the important role youth play in imparting environmental awareness.
Environmentally aware students
Kevin Keller and Simon Schwald are among such youth, and they are sweating along with the others in the palace gardens today as well. Keller and Schwald are students at the Schillerschule, a highschool in Rheinfelden, southern Germany.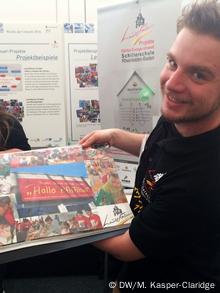 Schwald is enthusiastic about being involved in projects to protect the environment
Together with classmates, they've been invited to present their environmental project, called "Bonfire." Side by side with scientists displaying the newest developments in battery technology and exhibitors promoting solar homes, the boys demonstrate how to get children and young people excited about the environment.
"We are the only school that was invited," Kevin says proudly, "because we run so many environmental projects."
Older students guide younger ones through a tour of 34 different projects in Rheinfelden, where they learn about geothermal energy, energy efficiency and environmental protection. In many hours of lessons, they are trained to be energy and environment guides.
As Keller and Schwald explain photos of their activities to visitors, you can tell they have fun helping the environment. As many as 500 children have completed the most recent tour, and are now up-to-speed on protection of the climate and environment.
"If we do it in a hands-on way, reception of the topic 'environment' is very positive," adds their teacher, Günter Limberger, who is at Bellevue as well. Participating in the Week of the Environment "is an honor," he stresses. After all, "Bonfire" was one of less than 200 projects selected to be highlighted here.
Carrying forward the Paris Agreement
Meanwhile on the main stage, the topic of discussion is climate policy. German Environment Minister Barbara Hendricks is discussing implementation of the Paris Agreement with other high-level policy-makers - comfortably in the shade.
These include the chairwoman of the parliamentary group of the Greens, Katrin Göring-Eckart, UNEP Executive Director Achim Steiner, and Swedish climate researcher Johan Rockström.
"It's not that everything is going to be easy from here on," Hendricks says, and points out that there is still a long way to go from the climate agreement to implementation.
But Hendricks adds that Germany continues to play a leading role on climate policy, demonstrating how an industrialized country can change course in its own energy policy.
From brown to green
Today, 32 percent of the energy generated in Germany comes from renewable sources like solar or wind.
But Germany also still mines 180 million tons of lignite, or brown coal, per year. As a source of energy, lignite is responsible for more than 175 million tons of carbon dioxide emissions per year.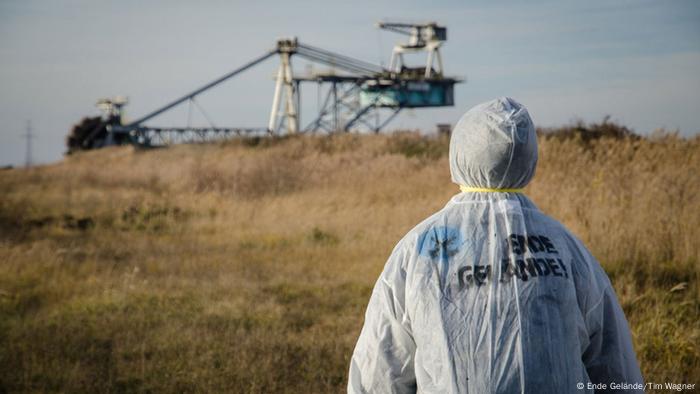 Protesters have targeted Germany's brown coal industry for its high emissions
"We need a cap for coal and nuclear energy. We have to get out of fossil fuels," Göring-Eckart shouts toward the audience - her statement is welcomed with applause.
Johan Rockström strikes a passionate tone as well. For the Swedish climate researcher, Germany is a global role model. "All eyes are on Germany," he says, adding that the country is "running the most important energy experiment in the world."
He says it is an enormous accomplishment that Germany, the forth-largest economy in the world, can show how it's possible to gradually switch over to renewable energy.
Hendricks points out that one must look beyond national climate policy - only global action holds the promise of success. Because of that, she adds, Germany has committed to contributing 3 billion euros over the coming years to development of renewable energy in Africa.
Solar settlements and new technologies
As discussion about the best climate policy continues at the podium, attendees are learning more about the many environmental projects being presented in the palace gardens.
One booth presents 50 solar settlements across the German state of North Rhine-Westphalia; another highlights the newest energy storage technologies, which will be required for a decentralized and fluctuating renewable power supply.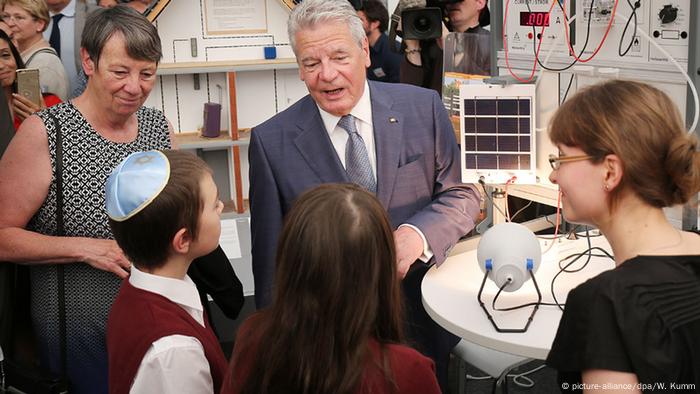 Getting hands-on is an effective form of environmental education - Hendricks and Gauck speak with youth at Environment Week
The exhibition covers 4,000 square meters, with more than 400 experts attending the discussions and expert talks.
And all the while, students of the Schillerschule in Rheinfelden are busy eagerly taking photos. They never dreamed that one day, they would be guests of the German president.