The four smaller German parties - the Left party, the Green party, the Alternative for Germany (AfD) and the Free Democrats (FDP) - clashed in a TV debate on Wednesday night.
The four parties are all hoping to come third in the September 24 national elections. The latest polls show them garnering between 8 and 10 percent of the vote, with the AfD currently in the lead at 10 percent.
With the two big parties - Chancellor Angela Merkel's Christian Democrats (CDU) and the Social Democrats (SPD) - having been in a Grand Coalition for years now and with their positions increasingly similar, all eyes are on the smaller parties to shake things up, serve as kingmaker or join a three-party coalition, which would be a first at the federal level.
Read more: What you need to know about germany's political parties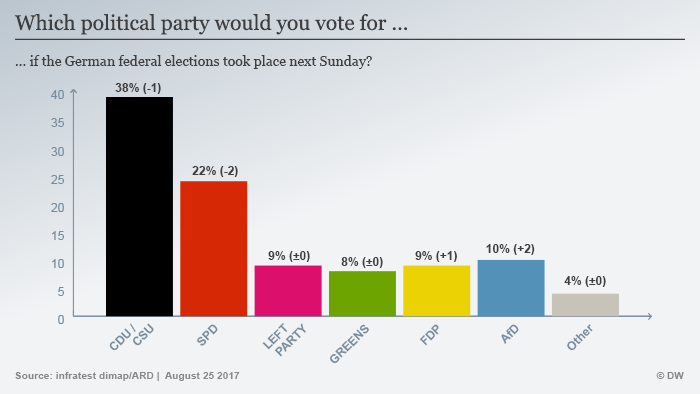 Ahead of the debate, viewers were able to vote on what topics would be discussed. Here's what dominated the debate:
Immigration and refugees
Predictably, the populist, right-wing AfD candidate, Alice Weidel, blamed refugees for negatively affecting security. Weidel claimed that just 0.5 percent of refugees coming to Germany were actually eligible for asylum. Hence she says the AfD favors stricter border controls.
The Green Party candidate, Katrin Göring-Eckardt, wants to keep the borders open and pointed out that she grew up in the former East Germany, where people knew what it was like to be fenced in. She also stressed that Islamist radicalization often happened in Germany and wasn't necessarily coming from migrants who came to the country in the last few years.
The Left party co-leader, Katja Kipping, is also in favor of granting asylum to those in need. Her party also demands an end to Afghans being deported to their home country.
The FDP candidate, Christian Lindner, reiterated one of the key demands of the liberal, business-friendly party - an immigration law similar to Canada's, so Germany can decide who is needed to boost the workforce and help curb a shortage of skilled workers.
Read more: Meet the German parties' top candidates
Policing
All four parties demand more police to combat terrorism amongst other things.
FDP: People identified as potential threats to national security should be under constant surveillance, demands increase of 15,000 police
Greens/Left party: demand better pay, especially in the lower ranks of the police force
AfD: wants to introduce police body cameras, increased use of DNA analysis
Read more: Wahl-O-Mat app pairs voters with political parties
Jobs and pay
Left party: demands a 12-euro minimum wage and an end to short-term contracts as well as a 1,050-euro guaranteed monthly pension.
FDP: favors facilitating home ownership as a means to avoid being poor in old age. True to its roots, chairman Lindner demanded lower taxes.
AfD: also demands lower taxes, but also an end to temp work.
Greens: rejected Lindner's home ownership policy, pointing out that many people could never save enough to enable them to own their own home. Also favors a guaranteed pension and a higher minimum wage.