Nominations for the Golden Globe Awards were revealed on Monday by presenters Alfre Woodard, Garrett Hedlund, Kristen Bell and Sharon Stone.
Fatih Akin's "In the Fade," which deals with a series of neo-Nazi murders in Germany and stars Diane Kruger, was nominated for best foreign language film.
Read more: Fatih Akin's latest film takes up terror from right extremists
Also nominated in the same category is the Swedish film "The Square," which is also a German, French and Danish co-production. Having won the Palme d'Or at the 2017 Cannes film festival, the satirical film scooped six prizes at the European Film Awards over the weekend.
Read more: 'The Square' wins top prizes at European Film Awards
German composer Hans Zimmer was nominated for the 13th time for the awards, for the soundtrack to Christopher Nolan's "Dunkirk." The Frankfurt-born star composer has won the award twice, in 1995 with "The Lion King" and in 2001 for "Gladiator."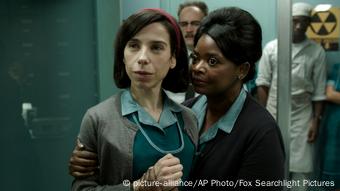 Guillermo del Toro's fantasy drama "The Shape of Water" won the Golden Lion in Venice
Nominations for best film
"Dunkirk," "The Post," "Call Me By Your Name," "Shape of Water" and "Three Billboards" were nominated for best drama film, while "The Disaster Artist," Get Out," "The Greates Showman," "I Tonya" and "Lady Bird" got nods in the best comedy and musical categories.
Guillermo del Toro's "The Shape of Water" leads the Golden Globes race with seven nominations, including for best drama film, director and actress Sally Hawkins.
Steven Spielberg's press freedom movie "The Post" follows with six nominations, among which for its director and stars Tom Hanks and Meryl Streep.
Read more: Spielberg's 'The Post': a cautionary tale of press freedom
The Globes are the most prominent platform yet in Hollywood's awards season to confront the so-called "Harvey Weinstein effect" and the series of sexual harassment allegations against the likes of Weinstein and Kevin Spacey that have rocked the entertainment industry.
Among the supporting actor nominees is Christopher Plummer, who has replaced Spacey in Ridley Scott's "All the Money in the World." Scott, too, was nominated for best director.
Read more: Kevin Spacey cut from a new Ridley Scott movie a month before release
Voted on by the Hollywood Foreign Press Association, the Golden Globes honors achievements in film and television, both domestic and foreign, across more than 25 categories. The nominations, announced just before the influential Screen Actors Guild's, open Hollywood's film awards season leading to the Oscars in February.
The 75th annual Golden Globe Awards, broadcast by NBC on January 7, will be hosted by Seth Meyers.
eg/sb (AP, dpa)