German politicians continue to express huge interest in Africa. Chancellor Angela Merkel recently hosted the Kenyan and Mozambican presidents in Berlin, and Foreign Minister Frank-Walter Steinmeier (with Togo's Foreign Minister Robert Dussey above) will be traveling to Niger and Mali in May. These can now be added to the more than a dozen African countries that Steinmeier has already visited.
"There is a growing interest in cooperation with Africa," said Christine Hackenesch from the German Development Institute. "This is because of the economic growth in Africa over the past few years." At the same time, the refugee crisis has also brought the region into focus.
Mali and Niger, where Steinmeier is heading, are important destinations because of the growing terrorism threat worldwide. In the West African country of Mali, Islamist groups, including al Qaeda in the Islamic Maghreb (AQIM), are very active.
Neighboring Niger has been regarded as relatively stable. President Mahamadou Issoufou has aligned himself with the US and France as a decisive opponent of Islamist terror groups in the region. But this has not stopped Boko Haram from launching attacks in the south of the country, while al Qaeda remains active in the west and north.
A lot of paper, fewer priorities
"Over the past couple of years, different ministries have presented their strategies on Africa. This is a sign that the political relationship between Africa and Germany is gaining greater meaning," said Hackenesch.
Germany's Foreign Ministry, Development Ministry (BMZ) and Ministry for Education and Research (BMBF) have now all published their Africa strategies. The BMBF has research cooperations with Egypt and South Africa, and the BMZ is pushing for agricultural development in rural areas. The Foreign Ministry has a plan of action for conflict prevention in many countries and is where the main guidelines for German-African cooperation come from.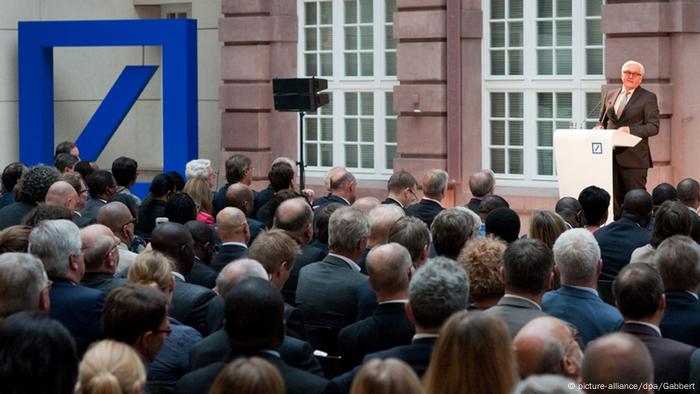 Steinmeier addressing a recent German-Africa Business Summit in Berlin
"The guidelines are unfortunately vague, and that poses the question: How can Germany set stronger priorities?" Hackenesch said.
Development versus security
The former president of the German Institute of Global and Area Studies (GIGA) in Hamburg, Robert Kappel, has criticized German strategy on Africa. He has looked specifically into this relationship over the past couple of years.
"The strategy papers do not reflect the significant changes that have taken place on the continent," he said, adding that Germany needed better policies to address security issues and the refugee crisis.
The past couple of years have shown that the growing differences between African countries are also an issue. While some African countries are growing more stable economically and politically, others are increasingly facing crises ranging from civil war and terrorism to Ebola.
Kappel suggests that Germany needs to move away from more traditional approaches to development and toward crisis prevention and economic cooperation with emerging economies like Kenya, Nigeria and Ghana.
At the same time, most of the poorest countries in the world are in Africa. "Germany's traditional developmental cooperations remain critical for these poor countries," said Hackenesch from the German Development Institute. She added that Germany must decide how to better synchronize developmental cooperation, humanitarian aid and security measures.
Clearer security policies
For Kappel, security policies are the most critical. "I think we need to make some decision in terms of security. Do we want to move toward more interventionalist measures such as France is doing [in Mali] or not?" he asked.
Germany seems to following this course in Mali, where German soldiers make up the largest segment of the EU mission EUMT. German soldiers are also slated to train Malian soldiers in the north of the country.
Kappel also asked whether because of Germany's history, the country could play the role of mediator and rely on African institutions like the African Union, instead of sending soldiers.
But Kappel is not impressed by the recent back-and-forth visits of politicians between Germany and Africa.
"These visits and activities have always existed," said Kappel, adding that they never revealed a real African agenda. Which minister or leader from which African country was invited and why was always decided ad hoc, he said, without there being an underlying strategy.