On Wednesday, Environment Minister Svenja Schulze convened Germany's "climate cabinet": a special panel of ministers tasked with overseeing sectors accused of undercutting German and EU greenhouse-gas-reduction obligations as the country appears set to fall short of the climate protection goals it previously set for itself.
A draft climate law formulated in Schulze's ministry aimed to slash Germany's gas emissions by 55 percent by 2030 and calls on each minister to deliver reductions in addition to the across-the-board promises made by nations at past UN and EU conferences to keep global atmospheric temperature rises "well below" 2 degrees Celsius (3.6 F) by the end of the century.
Read more: Germany from leader to loser on climate?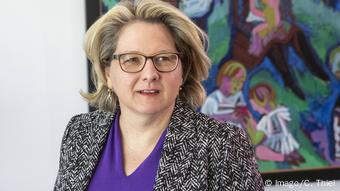 Schulze said all German ministries needed to take responsibility for protecting the climate
Ministers who fail to meet reduction goals would — under the terms of the new draft bill — face budgetary penalties, the imposition of climate protection measures, and the risk that from 2030 Germany would have to buy emission rights from other nations if it failed to meet its obligatory goals.
The Berlin-based think tank Agora recently calculated that that scenario — related to buildings, transport and agriculture — could cost Germany at least €30 billion ($34 billion). It was "more sensible" to invest in energy-saving methods instead of paying fines, Agora found.
Ministers each responsible
Last June, Schulze, a member of the center-left Social Democrats (SPD), told the online magazine klimareporter that she draws the line at fellow ministers' refusing to take further steps to meet the country's climate protection goals while she, as environment minister, was left alone to implement a "wish list."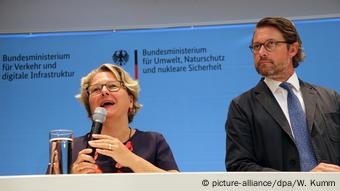 At loggerheads: Schulze and Scheuer
Instead, she said ministers would have to implement climate protection measures in their portfolios. "The colleague Scheuer is himself responsible," said Schulze, referring to Andreas Scheuer, the transport minister and a member of Bavaria's Christian Social Union, who is also responsible for Germany's car-making sector, a major source of export revenue.
The Handelsblatt newspaper on Wednesday reported that the HDE federation of retailers had followed Volkswagen by urging Scheuer to provide incentives to establish 100,000 electric-vehicle charging sites across Germany by 2020.
Germany looks set to miss its 2020 goal of reducing greenhouse gases by 40 percent compared with 1990 levels. Only a 32 percent cut would be reached, a government report found in November.
Brussels climate summit
EU leaders converge Thursday on Brussels for a two-day summit, which, in addition to dealing with a requested extension of the March 29 Brexit deadline, is set to look at the European Commission's plan for a climate-neutral economy by 2050 and an open-letter appeal by businesses, trade unions, and regional and civic groups.
Referring to last Friday's worldwide youth climate campaign, the letter's signatories demanded a "transition to a sustainable society and economy as soon as possible."
"A net-zero emissions economy is feasible and provides numerous economic, environmental and social co-benefits," the the signatories wrote.
Last week, 12,000 scientists and scholars in Germany, Austria and Switzerland endorsed the Fridays for Future youth protests and said none of the three German-speaking countries — Germany, Austria and Switzerland — was on target.
"Neither necessary scale nor speed is being achieved in the restructuring of the energy, food agriculture, resource and mobility sectors," the scientists wrote.
Alpine situation 'extreme'
According to Germany's DSV skiing federation, winter sports in Europe have begun almost impossible to plan a year in advance, with six events on the 2018-19 winter calendar canceled and five postponed.
Last year, the veteran skier Christian Neureuther had described the trend as "really alarming" compared with snow conditions during his World Cup experiences in the 1970s.
Wolfgang Maier, the DSV's head of Alpine skiing, said the situation had become "extreme."
"Since the end of January, we could not actually run hardly any event under stable conditions," Maier told the German news agency dpa. "Storms, rainfalls, snow, temperature swings — that is a change and exceptional."
Temperatures in mid-March on mountain peaks were already well above freezing, Maier said, "between 5 to 15 degrees Celsius (41-59 F)."
ipj/sms (dpa, Reuters, AP, AFP)