More than 20,000 protesters on Sunday gathered in the Georgian capital Tbilisi to protest the run-off presidential election, saying the vote had been rigged.
Earlier this week, Georgia elected its first female president, Salome Zurabishvili, who beat out opposition candidate Grigol Vashadze, who in turn enjoyed the backing of former president and fugitive Mikheil Saakashvili.
"People took to the streets today because the elections were rigged," said one protester identified as Gia.
Some protesters accused Georgian billionaire and founder of the ruling Georgian Dream party Bidzina Ivanishvili of stealing votes. "I am here to protest against election fraud," said a 63-year-old demonstrator.
Vashadze addressed the protesters in the capital, saying the election was a "criminal farce." The opposition "demands an early parliamentary election to be held in Georgia," Vashadze said, referring to the legislature.
Read more: Partying and protesting for a more liberal Georgia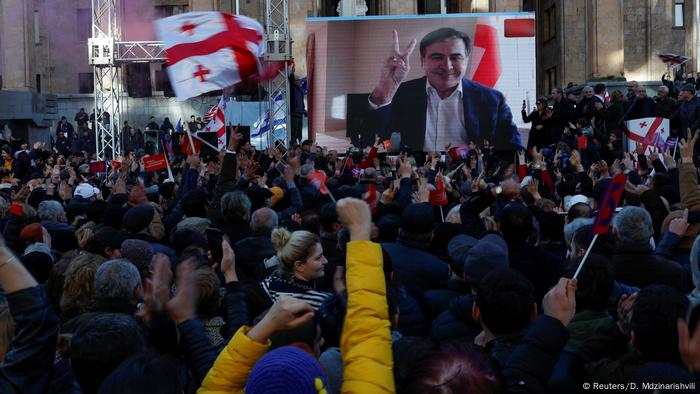 Former President Mikheil Saakashvili addressed the protesters via video link
'Party and state'
Georgia's electoral commission said Zurabishvili won with 59.5 percent of the vote in the runoff, compared to Vashadze's 40.5 percent.
While election monitors said the vote was largely fair, there were some irregularities. The Organization for Security and Cooperation in Europe (OSCE) said it was concerned about the misuse of administrative resources.
"The campaign was marred by harsh rhetoric," said OSCE special coordinator Kristian Vigenin during a news conference earlier this week. "Increased misuse of administrative resources further blurred the line between party and state."
The Georgian prosecutor general's office has since launched a probe into allegations of electoral fraud.
Read more: Uncertainty, competition mark the space between the EU and Russia
Each evening at 1830 UTC, DW's editors send out a selection of the day's hard news and quality feature journalism. You can sign up to receive it directly here.
ls/jm (AFP, Reuters)