In present-day Georgia, partying and politics seem to be two sides of the same coin. When the song "Hate me" by DJ and producer KDA echoed over the grounds of this year's 4GB festival near Tbilisi, party-goers became ecstatic. Not only because of the tune's dark, industrial beat. But also because of Patrick Cash's lyrics: "It's looking at a human race that sometimes seems consumed and wasted by hatred. And standing up to that and saying: I am not afraid." It seems that facing down hatred is something more and more young Georgians feel compelled to do.
A polarized society
Georgian society is becoming increasingly polarized. A poll found that 80 percent of Georgians described themselves as highly religious and conservative. But that identity can also wear the ugly face of right-wing extremism. In 2013, priests led a violent mob to attack an LGBTQ rally. And at Tbilisi's recent techno festival turned protest rally, far-right counter-protesters showed the Hitler salute.
The other 20 percent of Georgians are predominantly young and well-educated. Over the past five years, many have joined activist groups pushing for Georgia to become a more liberal country. They're well connected to the country's club and electronic music scene. Which means that nowadays, partying at a night club is tantamount to taking a political stand. Davit Chikhladze, who represents Tbilisiclub Mtkvarze, is dedicated to fighting for a more liberal Georgia. He says that "the only way for us to gain more respect is to close ranks and show no fear. We must do that if we want change."
Davit Chikhladze, representative of the Mtkvarze Club, is fighting for a more liberal Georgia
Tensions running high
But that's becoming increasingly difficult. Last week, heavily-armed policemen stormed and searched two Tbilisi night clubs, Bassiani and Café Gallery. Revelers and journalists were injured in the raid; some 60 individuals were arrested. The incident sparked an impromptu protest in front of Georgia's parliament. Demonstrators camped out for the entire weekend. Some 10,000 flocked to the techno rave/protest rally, demanding a liberalization of Georgia's drug laws, and criticizing police violence. Police struggled to shield the peaceful crowd when on Sunday evening, far-right counter-protesters gathered nearby. Some people at the rally later said they feared for their lives.
In talks with the interior ministry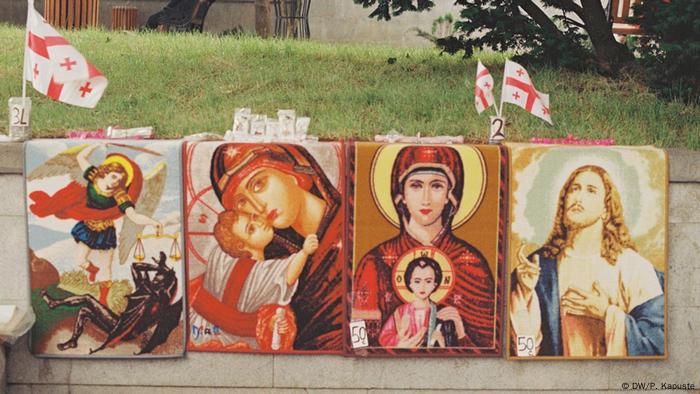 For many Georgians, religion is closely interwoven with national identity
Now, protest leaders and representatives from Georgia's interior ministry have begun talks. Police spokesperson Mamuka Chelidze claims the club raids were carried out to arrest drug dealers who, after previous investigations, had been identified as linked to both night clubs. It later transpired, however, that the eight suspected drug dealers had already been arrested prior to the raids.
The exact logistics of the raids, meanwhile, are secondary. What really matters, according to one activist, is that clubs are like safe havens: "Georgia's club scene has always been about women's rights, LGBTQ rights, and about just being whoever you want to be. That made clubs safe spaces for these people. The real problem is that police brutally attacked the clubs."
The struggle continues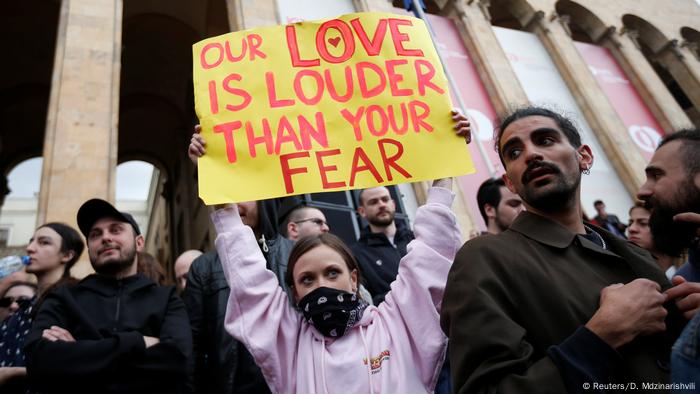 Protesters at a May 12 rally outside Georgia's parliament demanded more liberal drug laws
Many of those who raved in front of Georgia's parliament are also at this year's 4GB music festival, where many international artists perform. At one of the stages, there is even a small wooden reproduction of the country's parliament, reminding party-goers that the struggle continues.
But recent events have put a damper on the otherwise ecstatic mood. Many here don't think talks with the interior ministry will bring any improvements. After initially apologizing for the police raids, the ministry seems to now be backpedaling. Davit Chikhladze believes this is a deliberate tactic. "First, they order the raids. Then they apologize for them, but then defend their actions. Just like in Soviet times, which used fear," he said. "We haven't been scared in the past five years. But after these raids, we are."
At the festival, a security officer is happily dancing along to bass-heavy tunes. He's not a policeman – he works for a private security company. Even so, the ravers love the sight of uniform-clad man partying.
"Last week, we mobilized 10,000 people," says Chikhladze. "We will keep living life according to our own values, and inspire another 10,000 to join us."