Israeli Prime Minister Benjamin Netanyahu said Sunday that the military would keep up "massive strikes" on targets in the Gaza Strip in response to hundreds of rocket attacks from the Palestinian territory.
"I instructed the (military) this morning to continue its massive strikes on terror elements in the Gaza Strip and ordered (it) to reinforce the troops around the Gaza Strip with tanks, artillery and infantry forces," Netanyahu said at a meeting with his ministers.
Israel's army has attacked more than 250 targets in Gaza since Saturday in response to missile attacks by militant Palestinians.
Later, Cabinet ministers issued a statement after a nearly five-hour meeting saying the "ultimate consideration is the security of the state and its residents."
Hamas commander targeted
Israel also said its forces assassinated Hamas commander Hamed al-Khoudary by targeting his car in an airstrike. The 34-year-old militant leader was allegedly responsible for transferring money from Iran to terrorist organizations in Gaza.
The Islamic Jihad militant group, a Hamas ally, said Sunday that two of its members were killed in Israeli bombings.
A total of 15 Palestinians, including at least eight militants, have been killed in the current round of fighting, according to Gaza's health ministry.
The violence comes ahead of the Muslim holy fasting month of Ramadan, which begins Monday, and Israeli Independence Day celebrations on Wednesday.
Read more: Israel hit by rockets from Gaza after Palestinians killed in protests
Gaza militants have fired over 400 rockets at Israel since Friday, breaking a month long truce.
Police said Sunday that four people had been killed in Israel by strikes from Gaza. They were the first civilians to die from Gaza rocket fire since the 2014 war with Hamas, an Islamist group that controls Gaza Strip. Several other Israelis were also wounded in the attacks.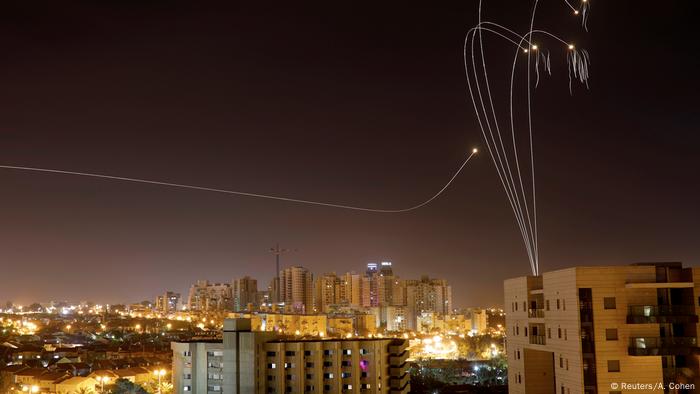 Israel said its Iron Dome anti-missile system intercepted many of the rockets
Israeli military said the Iron Dome defense system intercepted dozens of the projectiles.
Border protests
The flare-up comes after four Palestinians in the Gaza Strip were killed on Friday, as protests erupted along the Israeli border.
An Israeli army spokeswoman said that about 5,200 Palestinians had taken part in Friday's daylong demonstrations, demanding blockade concessions. More than 50 Palestinians suffered various injuries during the protests and two Israeli soldiers were wounded after being shot by Palestinian militants.
Read more: UN to step up human rights monitoring at Gaza protests
The incidents represent a new escalation since a cessation of hostilities was mediated by Egypt a month ago, after a rocket that hit a house in central Israel reignited tensions between Palestinians and Israelis.
Call for restraint
Nickolay Mladenov, the UN envoy for the Israeli-Palestinian conflict, has called on "all parties to immediately de-escalate and return to the understandings of the past few months."
The US condemned the Gaza rocket attacks on Israel and said it fully supported Israel's "right to self-defense against these abhorrent attacks."
Hamas accuses Israel of not honoring an Egypt-brokered deal, which many hoped would lead to Israel scaling back the 2007 Gaza blockade.
Read more: Israel reopens Gaza crossings after rocket strike
Israel, which seized Gaza in the 1967 Middle East War and pulled out its troops and settlers in 2005, claims that the blockade is necessary to stop weapons from reaching Hamas.
The militant group has fought three wars with Israel and fired thousands of rockets at the country in the past decade.
Both Hamas and Islamic Jihad have vowed to continue their rocket attacks on Israel.
shs,dj/jm (dpa, AFP, AP)
Every evening, DW's editors send out a selection of the day's hard news and quality feature journalism. You can sign up to receive it directly here.