It's a good day for Bubaraye Dakolo. Today, he's able to stand in front of his house without having a coughing fit.
He's plagued by gas flaring that takes place less than 100 meters (109 yards) from where he lives. There's a simple pipe scaffolding with a burner on top burning gas. That's how the oil industry gets rid of waste gas released by drilling for oil.
Africa's biggest oil fields are here in the Niger Delta. It's estimated that gas worth about a billion US dollars is burned every year.
Dakolo lives in a small village near Yenagoa in the Niger Delta region. The burner close to his house is only very rarely used. But if gas does get burned, he and his neighbors can hardly breathe.
"Suddenly everything smells like gas," the head of the Ekpetiama clan in the region told DW. For him, the fight against air pollution takes center stage.
Read more: Niger Delta: Nigeria's oil-rich powder keg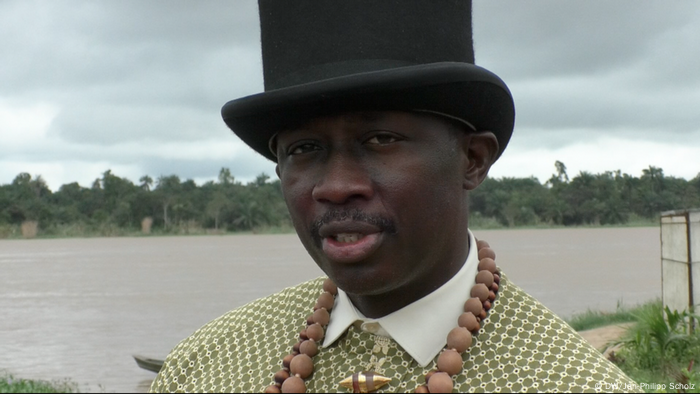 Dakolo says the whole village smells like gas and ruins people's health
He says oil concern Shell is responsible for gas flaring in the region. "Sometimes without even proper announcement you see the whole atmosphere is covered by gas and then breathing becomes very difficult for everyone. But usually when you try to confront the cooperations they are gone," he said.
A powerful opponent
Whenever Dakolo shows up in the village center, it doesn't take long until residents come up to him to tell him about their problems. A young man complains that his new corrugated iron roof has already been destroyed due to acid rain. And the harvest has turned out meager yet again.
They urge Dakolo to finally take it up with Shell so they are able to live a normal life again.
Dakolo tries to calm down the men. He knows they expect a lot from him - but he also knows he's up against a powerful opponent.
He says most politicians in the region are in support of the oil companies. "The gas flaring is a direct consequence of corruption. The people don't want it to end because they have been settled," he said.
Gas flaring was made illegal in 2005
Dakolo's closest ally lives just a few kilometers from the tiny village, in the regional capital Yenagoa. Activist Alagoa Morris of the "Niger Delta Resource Center" has been fighting against environmental damage by the oil industry for decades. Morris points out that gas flaring in the Niger Delta has been illegal since 2005 when Nigeria's Supreme Court banned the practice.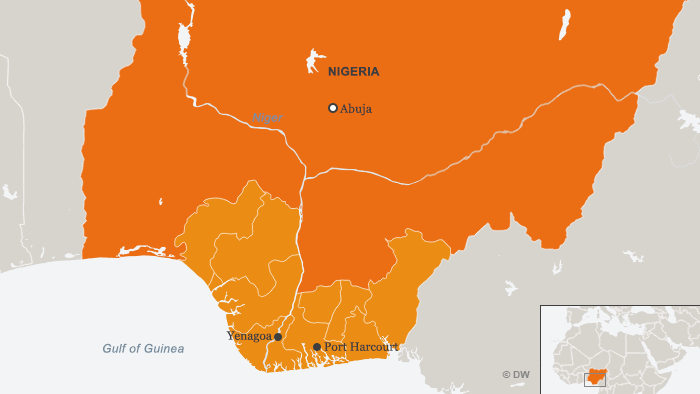 "The court ruled that it is illegal and against the fundamental human rights like the right to live and to be healthy," he said. "And even though Shell said they would appeal the case, it has never been appealed and it is subsisting."
However, fines are too low and only handed out in very few instances, he said. That's why oil companies don't care about the law, he added. Instead they would budget for these rare incidents when they have to pay a small nominal fee.
It's a scandal, says Bolaji Babatunde, an internationally renowned biochemist who teaches at the University of Port Harcourt, the biggest city in the Niger Delta. He's been doing extensive research about the effects of oil drilling in the region.
Gas flaring is one of the world's worst climate sins due to the massive amounts of CO2 emissions, he said. And as if that wasn't bad enough, the substances produced when gas is burned have proven to be toxic for plants, animals and humans in close proximity, he added.
The villagers are prepared to sue
"The gas that is being flared could simply be converted and made available for the people to use," he told DW. "Instead of using kerosene or even firewood, which has a direct impact of saving our forests, the majority of the people where the gas is flared are using firewood for cooking as their source of energy."
That could help ease the massive shortage of electricity in the country, he said, pointing to the running generator in his office. "Less than a quarter of the gas is being used to produce energy."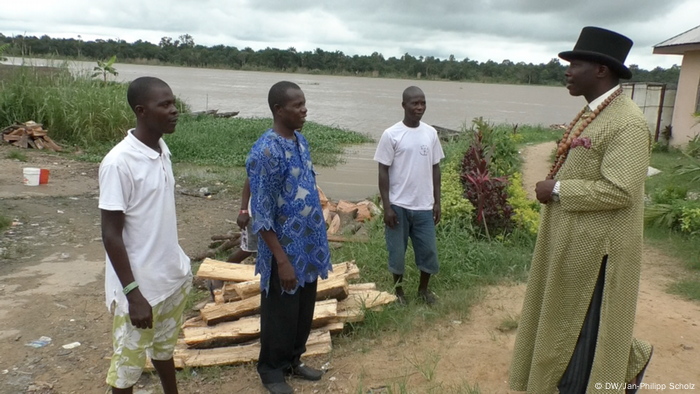 The villagers say they are prepared to sue to stop gas flaring in their regions
The reason is obvious: The Niger Delta is a poor region and access is difficult - that's why oil companies believe clean solutions don't really pay off.
Shell declined to comment on these allegations. Only a small regional oil company agreed to talk. The vice president of Belema Oil, a company that just started some five years ago, promises to entirely do away with gas flaring by 2019.
"It is amazing that after so many years of exploitation the basic infrastructure [to stop gas flaring] has not been provided," vice president Pedro Diaz said. The company vowed to learn from the mistakes made by big corporations.
Meanwhile, clan head Dakolo says he will only believe this when he sees the companies have actually put an end to gas flaring. He's heard all kinds of empty promises before.
That's why he has started documenting the health problems of his fellow residents. They are determined to bring the case to European courts, if that's what it takes to make things better.