Japan's Fukushima Daiichi nuclear plant was hit by a massive earthquke and tsunami on March 11, 2011. A series of explosions released radiation into the atmosphere, devastating the surrounding countryside.
Fukushima Prefecture's 70,000 farmers were forced to dump milk and vegetables into pits because they were no longer able to sell their products on the open market. Japan's government estimates it could take as long as 40 years to clean up the farmland around the Fukushima plant.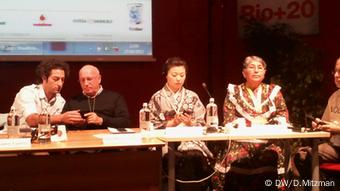 Yoko Sudo attended a Slow Food conference in Italy earlier this year
Yoko Sudo was a renowned organic vegetable grower in this region before the meltdown. She owned one field and rented another about 60 kilometers away from the reactor. For eight years she delivered boxes of fresh lettuce, root vegetables and beans, earning the adoration of her customers.
Lost crops
Sudo is the head of Slow Food Fukushima and an important voice for Japanese farmers affected by the nuclear crisis. She determined to stay on the land.
"My aunt was an apple-grower and she inspired me to become a farmer and gave me my passion for agriculture," Sudo said in an interview with DW.
The accident at the Daiichi nuclear plant changed her life. Overnight, Sudo went from being a trailblazing small farmer to an amateur geologist as she tried to understand what had happened to her soil.
"I was terrified of touching the soil," she said. "I completely stopped until a year later, when the land had been cleaned."
Mutated butterflies were discovered in Fukushima Prefecture in August
Sudo spread sunflower and canola seed over the soil because she had read reports that these can absorb radioactivity. But when it came time to burn the plants and bury the contaminated ash, Sudo remembers that the government disposal centers were full to capacity.
In the end, Sudo felt her plot was just too contaminated. She moved to a new field, which had cleaner soil and started growing soy beans for oil.
"Soy doesn't absorb caesium and potassium, so my oil is very safe," she said. "I am making a product I can market. There's a local non-profit organization that's helping people like me to sell our soya."
She intends to grow wheat in the future, because this crop tends to be less vulnerable to radioactive contamination.
Declining trust in government
Sudo is very wary of government advice. She explained that many Japanese no longer trust the country's close-knit political elite. The government advised farmers to spread the mineral zeolite on their lands because it absorbs radioactivity.
"But I don't agree with this so I'm not doing it," Sudo said. "Zeolite is a mineral which absorbs radiation, but then it will be reabsorbed by my land, so I don't see the point of farmers using it. It doesn't make sense to me."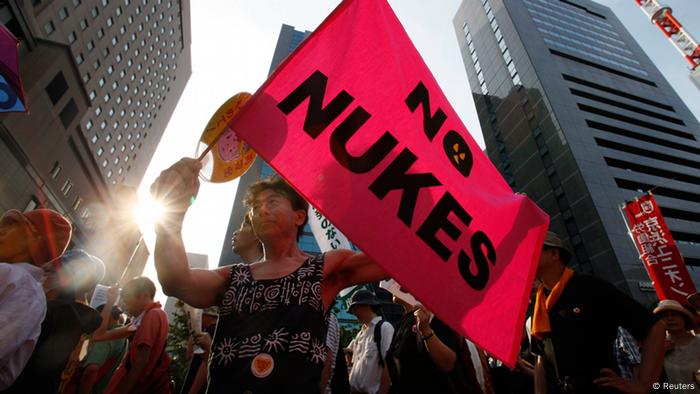 Anti-nuclear demonstrations spread across Japan and around the world after the Fukushima disaster
The soil Sudo farms now is relatively safe, but she explained that she is is still worried because of potential issues on neighboring farms. Her farm is beside a plot of land that is still quite contaminated and she thinks this may eventually carry over to her fields. Some soil is clay-based and so it retains more contaminated water.
The issue of not trusting the land or its produce remains a serious challenge in Japan. For now, 98 percent of Japan's rice has been declared free of nuclear contaminents. But Sudo said in her area, families rely on Geiger counters to evaluate all of their foods for radioactivity. She said she wants farmers to pool their resources and create a better verification process so they can more effectively market products which are considered safe.
"You can't even sell a small quantity without tests," she said. "Even for your own consumption, you have to get your crops checked. It's mandatory. After the crops have been declared safe, we eat them. We hope they are safe."