French Prime Minister Francois Fillon has admitted his holiday in Egypt was partly funded by Egyptian authorities shortly before the popular uprising against President Hosni Mubarak. The revelations have sparked questions about French relations with disputed North African leaders.
In a response to the controversy, President Nicolas Sarkozy said on Wednesday government ministers should stay in France for their holidays. He said ministers wanting to accept holidays paid for by foreign governments will need to seek official approval.
Faced with calls to sack his foreign minister who herself took a vacation to Tunisia in December, Fillon went public about his Egypt trip, in an attempt to preempt further embarrassing revelations.
Fillon and his family were put up by the Egyptian government during their stay, and also met with Mubarak. The latter is now facing growing calls to step down in the face of mass demonstrations in Egypt.
In a statement on Tuesday, Fillon said he decided to publish the details of his holiday "in the interests of transparency." He was billed for the flights to Egypt and the French state paid for his security staff.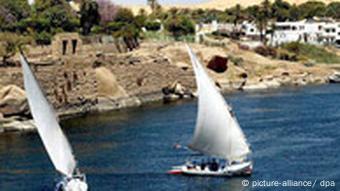 Fillon spent time in Aswan on the River Nile
Fillon, who is married to a Welsh woman and father of five children, also took an Egyptian government plane to visit the ancient rock temple site of Abu Simbel in the south of the country.
While in the town of Aswan, Fillon held talks with Mubarak and visited the cathedral to express his solidarity with the Coptic community following an attack on a church in Alexandria.
French government under fire
Sarkozy's center-right government, on the defensive over a slow response to events in Tunisia, has spent the last week dismissing demands to drop Foreign Minister Michele Alliot-Marie over a trip she took to the former French colony with her minister partner in late December.
Sarkozy acknowledged late last month that France, like many countries, "underestimated" events in Tunisia that have since inspired wider upheaval in the Arab world, and France's ambassador to Tunis has since been replaced.
Opposition politicians are demanding that Alliot-Marie resign over the trip where she, her partner and parents took flights on a Tunisian businessman's jet.
Jean-Marc Ayrault, who heads the opposition Socialists in France's parliament, said the revelations showed there was a "crisis" at the highest level of state.
Author: Joanna Impey (AFP, dpa, Reuters)
Editor: Martin Kuebler