French riot police and "gilets jaunes" (yellow vests) protesters clashed in Paris on Saturday as a protest against the high cost of living and taxes descended into the worst urban violence France has seen in a decade.
During the day-long demonstration, protesters set fire to dozens of cars and several storefronts near the Arc de Triomphe and along the Champs Elysees.
French President Emmanuel Macron denounced Saturday's protests and vowed a tough response.
"I will never accept violence," Macron said from the G20 summit in Argentina. "No cause justifies that authorities are attacked, that businesses are plundered, that passers-by or journalists are threatened or that the Arc de Triomphe is defiled."
Police used water cannon to quash the unrest. Almost 300 people were arrested and 110 injured, including at least 17 police officers, according to French authorities. Six buildings were set alight.
French Prime Minister Edouard Philippe canceled a planned trip to the COP24 climate conference in Poland on Sunday to meet with Macron over the unrest.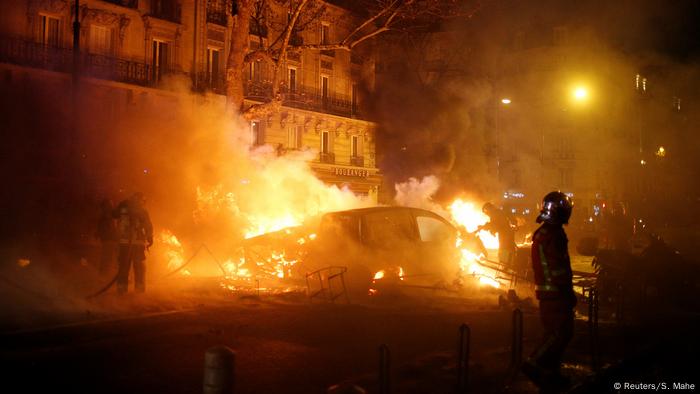 Protesters torched dozens of cars and sprayed the Arc de Triomphe with multi-colored graffiti
Violent turn
French officials voiced concerns that the protests were hijacked by "violent extremists."
"We are facing troublemakers who are targeting the symbols of the state," Deputy Interior Minister Laurent Nunez told BFM television.
Due to the clashes, central Paris was locked down on Saturday afternoon, with several metro stations closed for security reasons.
According to the Interior Ministry, around 75,000 people had joined protests across the country — well below the turnout on the first day of action on November 17, which brought 282,000 people out on to the streets.
The yellow vests take their name from the high-visibility jackets all motorists in France carry in their vehicles.They have blocked streets across the country and sporadically clashed with police. They are demanding the government reverse its economic policies that have resulted in high fuel prices and a spike in living costs. Some have called for Macron to resign.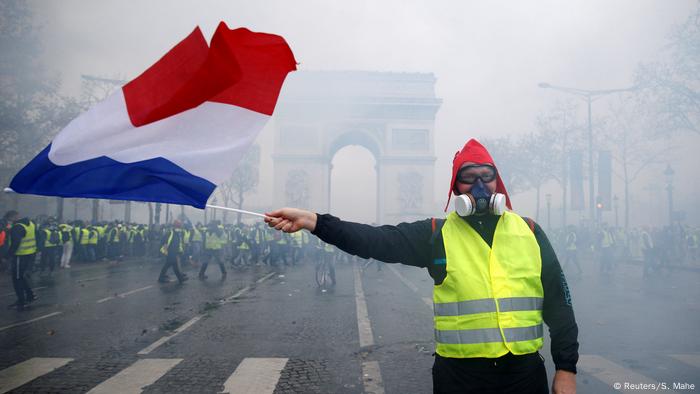 A protester flying the French national flag near the Place de l'Etoile
Three formal demonstrations had been planned across Paris on Saturday: the one organized by "yellow vests," a trade union protest against unemployment and a separate rally against racism.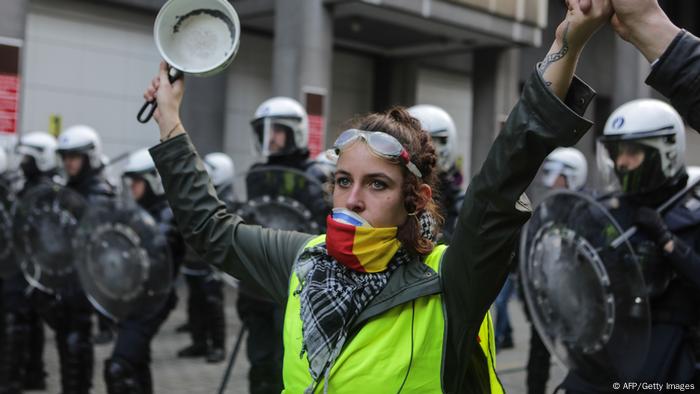 'Yellow vest' protests have also spread to Belgium
Macron criticized
The protests enjoy widespread support in France, with an opinion poll published on Wednesday showing that two in three people backed the rallies, despite the disruption they have caused to traffic and the economy. The protests pose one of the biggest challenges to Macron's 18-month presidency.
Macron has rejected demands to scrap an increase in fuel tax due to come into force in January, saying it is necessary to fight pollution. However, he did promise on Tuesday to come up with a roadmap aimed at helping France move toward a low-carbon economy without putting an added burden on those with a low income.
Macron, a former investment banker, has faced growing criticism of a perceived elitist attitude that puts him at a distance from normal citizens.
"Yellow vest" protests have also spread to Belgium. On Friday, police in Brussels clashed with protesters angered by high taxes and food prices.
rs, shs/jlw (AP, Reuters, AFP, dpa)
Every evening, DW's editors send out a selection of the day's hard news and quality feature journalism. You can sign up to receive it directly here.