Pilot David Green and his accomplice Edward Buckley admitted in a French court on Friday they had flown several migrants from the Marck aerodrome, near Calais to Britain, charging passengers £10,000 (11,120 euros, $13,000) each.
The pair were caught on Monday as they tried to leave the airfield in a four-seater Cessna plane with four Albanians on board, British and French media reported. They were placed on fast-track trial just four days later.
Green - a professional architect - along with Buckley, a carpenter, were found guilty of "assisting the movement of illegal immigrants in an organized gang."
The case demonstrates how the northern French port of Calais continues to be a gathering point for migrants attempting to cross into Britain, despite the closure of the "Jungle" migrant camp last year.
Read more: Calais refugees adapt to life in the UK
As well as being sentenced to 30 months' jail each, the British pair were banned from entering France for five years after serving their prison terms and their plane was confiscated, France's BFM TV reported.
Migrants went missing
British newspapers reported that the Albanian migrants disappeared after being taken to hospital for medical checks.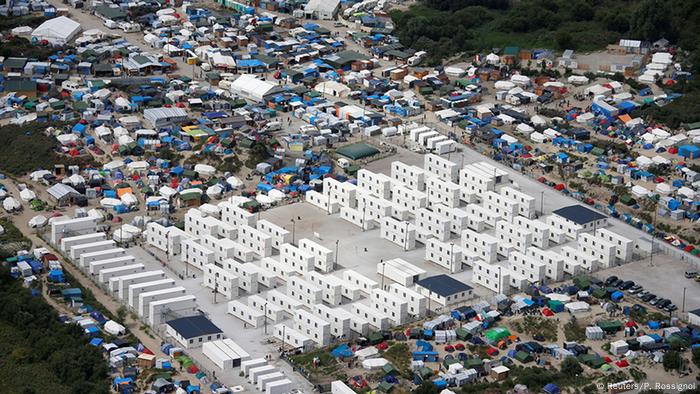 The Calais "Jungle" was home to some 9,000 migrants until its closure last year
The court, in the nearby town of Boulogne-sur-Mer, heard that the 54-year-old Green and 46-year-old Buckley had organized several trips since late April, on each occasion they moved two to four migrants between France and Britain.
Read more: Unlikely lover of Calais migrant avoids prison sentence
Prosecutor Raphaelle Wach said the migrants who sought to travel on Monday had requested the journey by plane and had the money to pay for the flight.
'Profited from misfortune'
Wach said the pair had been motivated by the money and said it was unacceptable that they had profited from people's misfortune in this way.
But Buckley's lawyer Emmanuelle Osmont argued that this was not a case of exploiting people's misery.
The prosecution had asked for a tougher sentence along with a 50,000-euro fine.
Police said Buckley's wife, who was also arrested on Monday, was not involved in the smuggling operation.
The number of migrants in the Calais area has plummeted from several thousand to a few hundred since the "Jungle" was closed. Most of the people were transferred to other camps across France.
Read more: Calais mayor outlaws food handouts for migrants
The refugees, mostly from Africa and the Middle East, often attempt to stow away on trucks that board ferries or the Eurotunnel to cross the English Channel.
The local prosecutor's office told the AFP news agency it was the first time it had handled a case in which illegal migrants were flown out of the country in a private aircraft.