Bashar Farahat, 32, points to a photo on his phone of a lanky African teenage boy peering into a computer screen and grinning. Then to a photo of another boy, wearing a woolly hat and a heavy coat, sat at a school desk too low for his long legs, also with a broad grin across his face. "They seem really happy, particularly in school. You can't know what's really inside, but compared to what they went through, they are in heaven," says Farahat, a Syrian refugee helping out in a London school that has welcomed four teenage boys from the now-defunct camp in Calais known as the Jungle.
The boys met in Calais after fleeing the Sudanese region of Darfur and travelling through Libya, across the Mediterranean to Italy, and up through Europe, but Farahat says they do not talk about it. "The side-effects of such a journey can't be on the surface now … They only ask me about how to learn English and establish a new life here - always about the future, not about the past," he told DW.Farahat, a pediatrician who fled Syria at his family's insistence after being tortured by the regime for pro-democracy activism, is 18 months further down the path of acclimatization to Britain.
The boys attend a school run by the Christian-based charity Oasis UK for three half-days a week. They have math, English and PE lessons that use games and simple English. Teachers offer these on top of their regular commitments, and among the school's many Muslim pupils are those who can converse with the new arrivals in Arabic. "I teach them English," adds Farahat. "I know what English they need: how to take a bus, how to speak to the driver. Their listening is very good, but they struggle with speaking."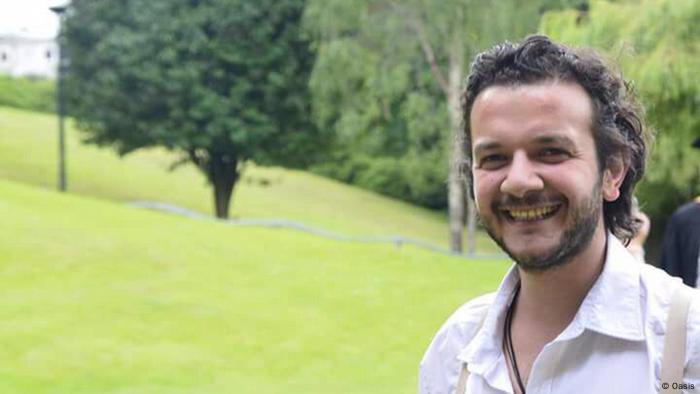 Bashar Farahat, who fled after being tortured in Syria, is helping newly arrived refugees to adapt to life in the UK
Still a long way to go
It is three months since Britain and France cleared the controversial shantytown and pledged to rehouse its most vulnerable residents. According to the Home Office, Britain has received around 750 minors so far. Those with relatives here have been admitted under the Dublin Regulation [EU law that determines the EU Member State responsible to examine an application for asylum seekers seeking international protection under the Geneva Convention - the ed.], while unaccompanied child refugees have been admitted thanks to an amendment pioneered last year by Lord Dubs, a former child refugee. He hoped it would allow 3,000 child refugees to be brought to Britain; however, the charity Safe Passage UK puts that figure at only 150.
In November the Home Office restricted eligibility to children under 12, or 15 if they were Syrian or Sudanese, and 18 only if they had a qualifying younger sibling. Charities condemned the move as "arbitrary, cruel and potentially illegal," and last month a group of 36 child former Jungle residents, of whom 28 had had their applications for asylum refused, launched legal action against the home secretary, Amber Rudd, accusing the British government of reneging on its commitment to the Dubs Amendment.
Children who are admitted to Britain are placed in temporary accommodation until they can be placed with relatives or a foster family. Oasis UK, which offers supported housing, was asked by the Home Office to open a safe house and has received around 40 children from the Calais camp since October. The government covers basic costs and the charity pays for treats; some boys stay for a few days, others a couple of months.
Better than expected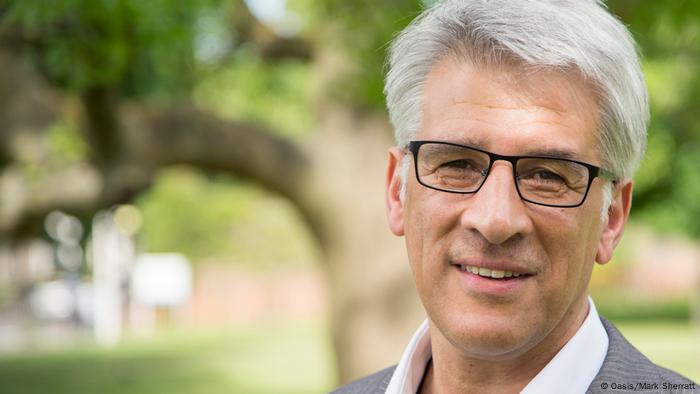 Steve Chalke, founder of the charity Oasis, says he's surprised at how quickly some of the young refugees have acclimatized
Oasis UK founder Revd Steve Chalke told DW the boys had been "timid" on arrival in London, but staff at the safe house "were blown away by the [their] politeness." Oasis staff devised a program aimed at promoting teamwork and interactivity that included table tennis, cards, snooker and FIFA video games, and Chalke said the boys soon enjoyed just "messing around," reminding him of when his sons had been teenagers. Experts from the charity's other supported housing projects devised behavior protocols, and Oasis volunteers offered befriending so that the boys were not isolated, he said. A garden attached to the safe house gives them space to reflect.
The young people's behavior has been better than expected: there have been "tantrums," Chalke said, "but staff have not had to call the police." Oasis staff have reported "a wide variety of mental health issues, including post-traumatic stress disorder, guilt, shame, depression, anxiety and withdrawal," in addition to conditions such as bronchitis, pneumonia, hepatitis B, syphilis, parasitic worm infection, and allergies and skin problems.
Chalke recounts one boy's story. "One lad watched his father murdered in front of him. He was then trafficked by the gang who murdered his father; he ended up in Libya without any papers. Then he was arrested and spent about six months in prison, where he was raped on a regular basis. Then with some help he escaped and ended up with a group he thought cared for him - they fed and clothed him. And then he realized they were "Islamic State" fighters, and then escaped from them, nearly losing his life. Then he climbed on a boat, which sank; he witnessed others drown. He made it [to Europe] and walked and climbed on the back of trains through Italy and France, broke his arm along the way, ended up in Calais for about nine months in the mud before coming here."
Oasis has continued supporting some residents after they have gone to relatives who have lacked the space, money or inclination to care for them. A report by Oasis UK last month urged the central government to resource and challenge local authorities to take in more child refugees, and invest more in their integration into society, to prevent their exploitation and radicalization.
Farahat views the boys through the lens of his experience, and sees them not as a burden on the state or as security threats, but as bewildered survivors who need help to function fully again. "I hope that they have a life that is good enough to make them forget what they went through and … [enable them to] support their families there in Sudan or wherever they are, and maybe some day be able to go, like me, and help their countries."