The wall was funded by the British government as part of a 20-million euro ($21.25 million) joint Anglo-French package of security measures. It was aimed at preventing people from the "Jungle" migrant camp from stowing away on lorries and other vehicles on the French side of the Channel.
No migrants have been reported trying to get on a truck since French authorities dismantled the camp in October, regional spokesman Steve Barbet said.
He added that the new 4 meter-high (13 foot-high) and one kilometer-long (0.6 miles) concrete wall along a Calais highway was designed to deter migrants in the future.
The police have continued to search the city and surrounding areas but rarely find migrants, although a handful of people have gathered at the Calais port.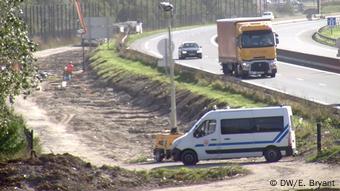 Construction of the new wall
Barn doors and bolting horses
Work on the wall, which is covered with plants on the traffic side, began in September. This after French interior minister, Bernard Cazeneuve, said that France intended to dismantle the camp entirely by the end of the year.
Calais Mayor Natacha Bouchart attempted to stop construction of the wall, saying there was no need for it once the camp was cleared. Bouchart pledged to use "all legal weapons" at her disposal to prevent the barrier from being built.
Over 2015-16 more than 84,000 migrants and refugees were caught trying to illegally enter the UK at 'juxtaposed ports' such as Calais, according to UK Home Office figures.
Thousands of migrants from the Mideast and Africa, who had converged on Calais after fleeing conflict and poverty, have now been dispersed across France.
This year alone, several migrants died after falling off trucks or being run over. Rights groups condemned the so-called 'Great Wall of Calais' as cruel and dangerous.
The Jungle camp was first demolished in 2009 only to form again in 2015 when migrants from the Middle East and Africa began coming into Europe in unprecedented numbers.
jbh/jm (AP, AFP)