After six months in Calais, Abdul Wahid Niazi had made up his mind about France. It was the country where police roughed up migrants and citizens didn't care. It was place where his tent was waterlogged by days of incessant rain.
"It was horrible, it was a jungle," Niazi said of the port city's infamous tent camp that came to symbolize Europe's broader migrant crisis. "I've seen so many people stabbed. But there were no rules, nothing. We couldn't even complain to police because they didn't care."
Today, the Calais Jungle camp is history, its last rickety shelters demolished by bulldozers this week. The young Afghan's latest home is a drab hotel bordering a highway, until he moves to more permanent housing. His views of France have also altered since being bussed here last week, soaked from a day standing out in the rain.
"It was shocking, people were there to greet us with tea," he tells DW, speaking softly in English learnt from years living illegally in London. "They are good people, actually."
The capital of France's northeastern Champagne region, Reims has taken in 29 Afghans and Sudanese from Calais, as part of the government's resettlement plan for some 5,000 Jungle residents. French officials estimate most qualify for asylum. Those who do not, or fail to apply, will be deported, they say.
"Asylum demands will be treated in six or seven months, because French authorities want to move swiftly in determining their status," said Philippe Wattier, director of the Salvation Army's Reims office, which is helping the new arrivals settle in and apply for asylum - a step, he says, all want to take.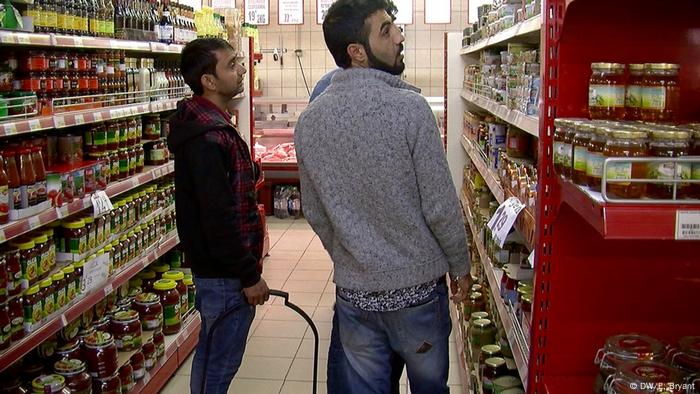 Not everyone in Reims is happy about the city taking in refugees
"The state doesn't have an interest in worsening the situation, putting them in a situation that would push them back to Calais or reconstruct other jungles," he told DW.
Unresolved problems
Yet France's larger migrant problem is far from resolved. After days of squabbling between Paris and London over where they should go, hundreds of children are being transferred to special juvenile centers around France although their longer term fate remains uncertain. Other Jungle residents have rejected the government's resettlement plan, finding shelter on the streets of Paris instead. The government vows to demolish the tent camps, but few believe that will solve the problem.
In Reims, the newcomers have dry beds, hot showers and clean clothes - luxuries after months camping out. Yet the harsh conditions have left their mark.
"Some may have tuberculosis. Also scabies, lice and intestinal infections," Salvation Army social worker Anne-Lise Mouret told DW. "We're discovering a lot in these first days. And they don't know us - we need to establish a relationship of trust before they can confide in us."
For Niazi, Reims is just the latest stop in a long odyssey. The son of a farmer from Afghanistan's eastern Laghman Province, he moved with his family to Kabul as a boy to escape the fighting. A decade ago, at the age of 14, he left his homeland for good, chosen as the oldest son to try his luck in Europe.
Niazi eventually made it to London, but fled a few years later when he faced expulsion. He spent time in Italy before heading to Calais, hoping to make another try for Britain.
For now at least, those dreams are over. "The first thing is to learn the French language," he said. "That's what we have to do if we are staying in France."
A mixed welcome
A few days after arriving in Reims, Niazi and two friends ventured out for the first time, accompanied by a social worker. The group stocked up on canned meat and vegetables at a Halal supermarket and chatted with the Turkish staff.
"We need to help them get imbedded in daily life, if integration is to work," the Salvation Army's Wattier said.
Across France, the Calais migrants have received a mixed welcome. Towns have been rocked by pro- and anti-migrant protests. Right wing mayors launched a campaign against taking them in.
In Reims, where past kings of France were crowned, residents have been calling charities to donate clothes for the new arrivals and volunteer their services.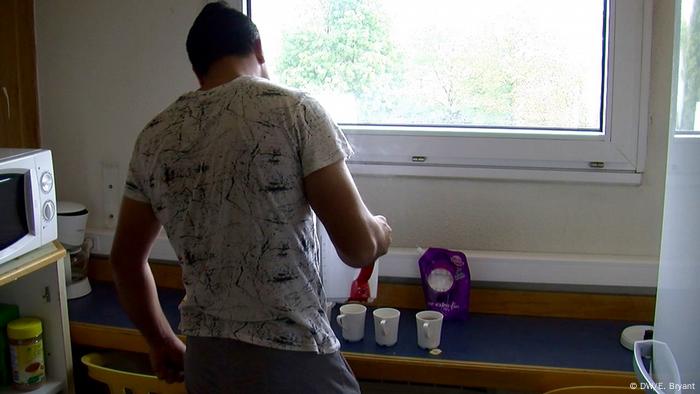 A far cry from conditions at the 'Jungle' refugee camp in Calais
"As long as they don't make trouble, I think we should welcome them," said 21-year-old arts student Julien Vallée.
Others have been hostile. A letter to the Salvation Army last week threatened to torch establishments sheltering the migrants.
"It said they were sick of us welcoming these no goods, these foreigners," Director Wattier said.
While he believes most have a good chance of receiving asylum, the charity will also prepare them for the worst.
"It's one of the most difficult parts of our work - to see people suffer, after accompanying them for months," Wattier said. But, he added, "we have to be pragmatic. We're not selling dreams."