Travelers in France faced frustrations on Wednesday, as the transport strike extended into its fourth week and coincided with the Christmas holiday.
Thousands of trains were cancelled or delayed, while taxis, ride-sharing services and car rental agencies were overwhelmed by demand. The underground metro in Paris was shut down, except for two lines.
Only a fraction of high-speed and inter-city trains ran on Christmas Eve and even fewer were operating the following day. Paris' main train stations were closed on Christmas morning, with suburban connections slashed.
Transport will continue to be disrupted on Thursday, but state rail company SNCF said it hopes the situation will improve this weekend. "We expect to be running three out of the usual five TGVs," a spokesman said.
The holiday disruption comes after President Emmanuel Macron had called for a holiday truce, but the government and the unions failed to find common ground.
Read more: Emmanuel Macron goes ahead with pension reforms amid strikes
At the center of the labor dispute, which sparked widespread protest and strikes lasting over two weeks, are reforms that would do away with 42 different pension schemes and replace them with a points-based system.
Additionally, the reforms seek to set 64 as the age until which people must work to earn a full pension. That is two years beyond the current official retirement age in France.
Even Paris Opera workers, who can retire at 42, joined the strike. On Tuesday, some 40 dancers performed Swan Lake to passers-by on the steps outside the opera house with banners warning: "Culture in danger."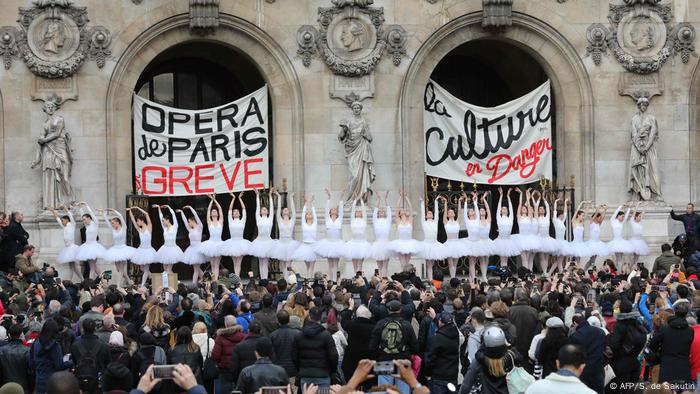 Ballerinas perform outside to protest the pension reforms
French unions are hoping the government will back down on pension reform, as it did in 1995, when three weeks of metro and rail stoppages just before Christmas resulted in a win for labor activists.
But the protests this month have come at a cost for businesses, especially retailers, hotels and restaurants, during what is usually the busiest periods of the year.
The SNCF said on Tuesday that it had lost €400 million ($442 million) in potential earnings so far.
An opinion poll by the IFOP agency published Sunday showed, however, that some 51% of people still expressed support or sympathy for the strike.
Negotiations between the government and the unions are scheduled to continue on January 7.
jcg/kl (Reuters, AFP)
Each evening at 1830 UTC, DW's editors send out a selection of the day's hard news and quality feature journalism. You can sign up to receive it directly here.