Helmut Kohl's political party the Christian Democratic Union on Friday confirmed media reports that the former chancellor had died.
"We mourn. #RIP #Helmut Kohl," the brief message read as tributes began pouring in from world leaders.
Kohl died at his Oggersheim home near Ludwigshafen, south of Frankfurt on the Rhine River, early Friday.
On hearing the news in Rome, Chancellor Angela Merkel said the Roman Catholic Kohl realized that he had a "historic chance" to overcome Germany's decades-long division and seized it.
Kohl, Germany's longest serving post-war chancellor, gave his name to an entire generation - the "Kohl Generation."
It was common knowledge among young people who grew up while he was chancellor that Helmut Kohl would sometimes invite special state visitors back to his home in Oggersheim, a suburb of Ludwigshafen, and serve them his favorite dish: stuffed pig's stomach. In his leisure hours he liked to wear cardigans stretched across his enormous frame.
Helmut Josef Michael Kohl was born in Ludwigshafen on April 3, 1930.
He was only 17 when he joined the conservative Christian Democratic Union (CDU) and was active in the party during his studies in history, law and governance and public policy.
Kohl was elected premier of Rhineland-Palatinate in 1969. At just 39, he was the youngest person ever to hold the position.
In 1976, the CDU and its Bavarian sister party, the Christian Social Union (CSU), choose him as their candidate for chancellor in the parliamentary elections.
He won 48.6 percent of the vote, but that still was not enough to keep Helmut Schmidt's Social Democrats (SPD) from staying in power in a coalition with the free-market liberal Free Democratic Party (FDP).
It wasn't until six years later, on October 1, 1982, that Kohl finally reached his goal. The leader of the opposition, which also had the largest number of seats in the German parliament, was voted in as chancellor.
It was a vote of no confidence against the Social Democrat Chancellor Schmidt that brought Kohl to power, after he succeeded in convincing FDP leader Hans-Dietrich Genscher to break with Schmidt.
Kohl formed his own alliance with the FDP and became the head of the government. In a controversial move a few months later, he proposed another confidence vote to hold fresh elections, which he won.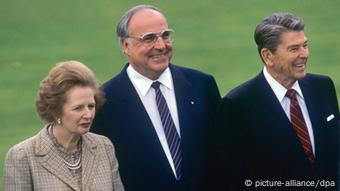 British Prime Minister Margaret Thatcher with Kohl and US President Ronald Reagan in 1985
Problem solving à la Kohl: Sit it out
There was considerable discontent with Kohl's government during his first years in office. He acquired the reputation for not solving domestic problems but just "sitting them out." He responded to criticism by repeatedly reshuffling his cabinet.
His visit to the cemetery in the German city of Bitburg with US President Ronald Reagan in 1985 sparked fierce debate, as members of the Waffen SS, a paramilitary organization of the Nazi regime, were buried there alongside German and American soldiers. On another occasion, he compared the then-head of the Soviet Communist Party, Mikhail Gorbachev, to Nazi propaganda minister Joseph Goebbels.
But it was Gorbachev's policies of glasnost and perestroika that were to benefit Kohl the most. In June 1989, Kohl welcomed the Soviet leader in Bonn. At that point no one was reckoning with the imminent fall of the Berlin Wall, which was to happen just a few months later. Kohl, however, greeted Gorbachev with words of expectation: "Many people are pinning their hopes on your visit here - people back home in your country, and here in ours."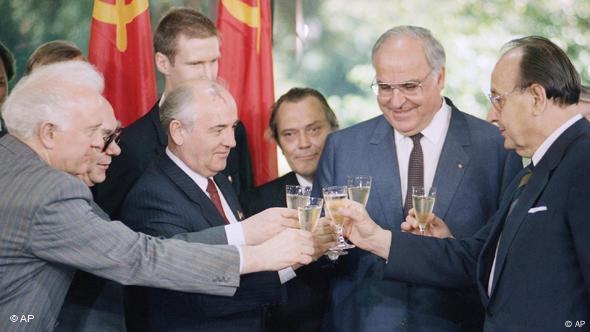 Soviet leader Mikhail Gorbachev met with Kohl in Bonn in June 1989, shortly before the Berlin Wall fell
Unprepared for the sudden fall of the Berlin Wall
The situation advanced much faster than anticipated, and when the wall did fall it caught Kohl off guard. He was on a trip to Poland when the citizens of East Germany stormed the inner-German border and the East German guards let them through.
Although Kohl immediately headed home, he didn't get back in time to be the first West German politician to address the entire German people at that symbol of their division, the Brandenburg Gate. Instead, it was the words of the West German President, Richard von Weizsäcker, that people heard that night.
Kohl, however, quickly seized the initiative and launched a 10-point plan with the aim of reuniting the two German states as quickly as possible. He tried to defuse fears in other countries about a reunited Germany becoming too powerful or too nationalistic.
"We Germans have learned from history," he said at the time. "We are a peace-loving, freedom-loving people. For us, love of our native country, love of freedom, and the spirit of being a good neighbor always belong together."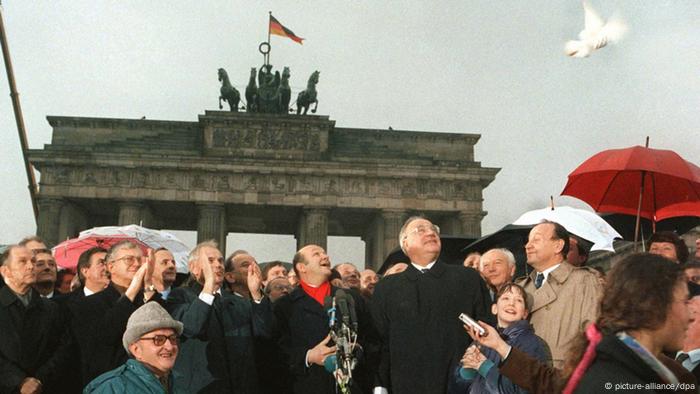 Kohl at the Brandenburg Gate in December 1989
Miscalculating the cost of German unity
Kohl had reached the zenith of his political career in 1989 and 1990. He was celebrated as a star in East Germany. His promise to its citizens included the oft-quoted "green pastures."
But despite the introduction of the solidarity tax to contribute to the development of the former East Germany, reunification couldn't be rushed, and Kohl didn't succeed in raising the living standard in the eastern states to that of the former West.
Many East Germans who had lost their jobs failed to find new employment and moved to the West after reunification. Development in the five new German states continued to be slow, and as people became frustrated Kohl saw his popularity plummet.
Donation scandal tarnishes Kohl's reputation
Dissatisfaction with the Kohl system grew among Germans, with many of them regarding the chancellor as only interested in holding onto power. In October 1998, a coalition of the Social Democratic Party and the Greens won parliamentary elections and after 16 years - a record for Germany - Kohl was once more a member of the German parliament's opposition.
News in 1999 that "his CDU" was involved in accepting illegal donations through a number of secret bank accounts would tarnish his reputation. At first, Kohl denied any involvement in the scandal and said his conduct was beyond reproach.
Despite his reassurances, the CDU eventually revoked his honorary party membership and at a special party convention Kohl was asked to give up his seat in parliament as well.
He later admitted to having received millions of deutschmarks worth of illegal contributions, without ever disclosing the donors' names. Court charges against him were dropped in return for paying a fine, and the ex-chancellor largely left the German political stage.
Death, remarriage and new recognition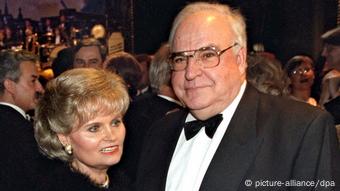 Kohl and his first wife Hannelore in 1997, four years before her death
In July 2001, Kohl's wife, Hannelore, committed suicide taking an overdose of sleeping pills. She had suffered from photodermatitis, a form of sun allergy.
At the age of 78, Kohl remarried. Former companions went on record as saying that Kohl's new wife, Maike Richter, kept an overly watchful eye on him, assuming control over his social life. The relationship to Kohl's sons from his first marriage and, most recently, collaboration with his long-time ghostwriter Heribert Schwan were affected in similar ways.
As the CDU's finance scandal faded into history, Kohl once again received recognition from his party, including current chancellor and former Kohl protege Angela Merkel, as well as the international community.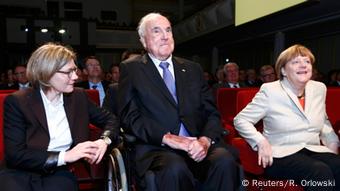 Maike Richter-Kohl with her husband and Chancellor Angela Merkel in 2015
In May 2011, he was awarded the Henry Kissinger Prize for exceptional contributions to transatlantic relations. Former US President Bill Clinton called him "the most important European statesman since the Second World War."
A few years before his death, in 2012, Kohl received yet another notable tribute when the Federal Republic of Germany issued a special stamp in his honor.
It shows Kohl's face, spread across 12 square centimeters and captioned "Chancellor of reunification - honorary citizen of Europe."
Helmut Kohl would not have called himself the perfect politician - and neither would his Christian Democratic colleagues. But he will go down in history as chancellor of reunification and a major promoter of a united Europe.