Cologne district court ruled on Thursday that one million euros must be paid in compensation to former German Chancellor Helmut Kohl in a case surrounding the 2014 publication "Vermächtnis - die Kohl-Protokolle" (Legacy - The Kohl Transcripts). Kohl claimed that the unauthorized biography damaged his reputation and some relationships.
'Damaging' book
Kohl, now 87, sued principle author Heribert Schwan - formerly his official ghostwriter - last year after Schwan extensively quoted tape recordings, which Kohl had never released.
The case was also against co-author Tilman Jens and publishers Random House. Kohl argued that the defendants had no right to publish material from his conversations with Schwan without his consent.
Read more: Helmut Kohl seeking millions in damages in lawsuit over 'damaging' book
Criticism of Merkel
The somewhat unguarded comments, focused largely on international fgures such as Ronald Reagan and prominent members of the Christian Democratic Union (CDU), the party Kohl kept in power for his 16 years in the chancellery.
Current German Chancellor and Kohl's former protégé Angela Merkel was also the subject of unfavorable remarks.
"Ms Merkel couldn't even hold her fork and knife properly," Kohl was quoted as saying.
"She hung around at state dinners so that I had to repeatedly tell her to pull herself together."
Kohl was toppled from his role as head of the CDU in 1998 amid an expenses scandal, in which it was revealed he accepted a cash donation from unknown sources.
Failed friendship
Schwan, an acclaimed broadcast and print journalist, once worked closely with Kohl. In the book, he describes how the former chancellor had taken to referring to him as "Dichter," meaning poet, writer or scribe.
Together, the the duo compiled three volumes of the chancellor's memoirs - based on around 630 hours of talks held between 2001 and 2002. Before the fourth and final volume was written, however, the friendship broke down and contact was lost.
According to Schwan, the working relationship collapsed after Kohl remarried and Maike Kohl-Richter took greater control of her new husband's affairs.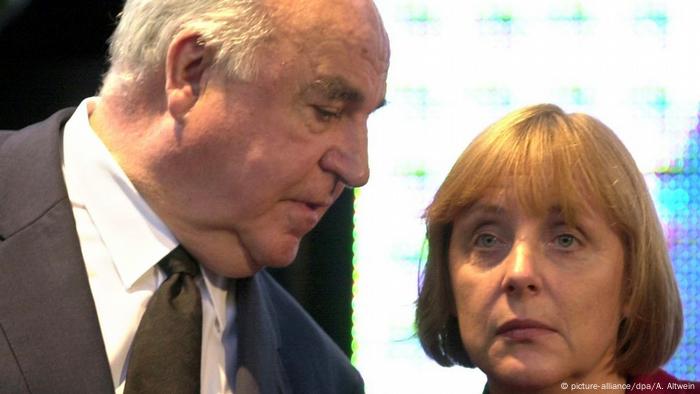 Former German Chancellor Helmut Kohl with his former ptotégé and current Chancellor Angela Merkel in 2001
Successful separate case
The original hardback copy of the fourth memoir has since been heavily redacted, removing many of the key block quotes from Kohl's conversations with Schwan. This follows Kohl's successful efforts in 2015 to remove them, on the basis that Schwan was contractually bound to publish only with Kohl's consent.
Read more: Court upholds ban on former Chancellor Kohl's candid quotes
Schwan had argued that the conversations' content were in the public interest. A court forced Schwan to return the original tapes of the conversations to the Kohl estate, although he still possesses copies.