The strike is to last from Monday until Wednesday, according to the Verdi union which represents 2,000 members of ground staff at Berlin's two major airports: Tegel in the north and Schönefeld in the south.
A spokesman for Berlin airports said that almost all flights would be cancelled on Monday: 194 at Schönefeld and 448 at Tegel. As well as Lufthansa, carriers include Air Berlin, easyJet and Ryanair.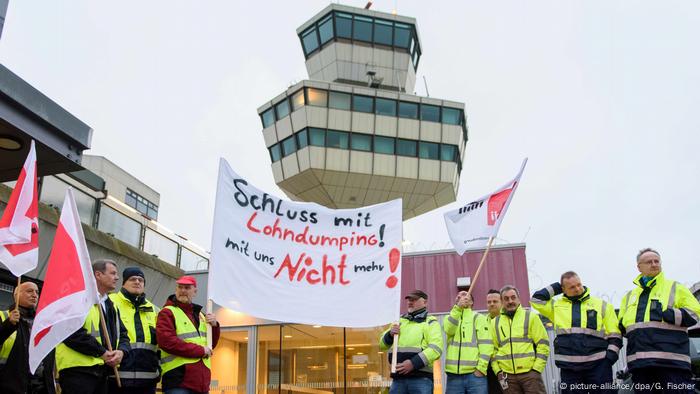 Ground crew previously went on strike Friday, as shown in front of Berlin Tegel airport.
The union is demanding a 1 euro ($1.07) increase for hourly wages for ground staff as part of a one-year collective agreement. Berlin airport management previously offered a 10-cent increase to the hourly wage over four years, which then changed to an 8 percent increase over three years. The union is also calling for better working conditions.
"The volume is too small and the duration far too long to find a compromise on this basis," said Verdi negotiator Enrico Ruemker in a statement.
Monday's strike is a continuation from last Friday, when ground crews held a strike that led to nearly 700 cancelled flights, leaving thousands of passengers stranded. Ground crews include personnel checking in passengers, loading and unloading planes and directing airplanes on the tarmac.
The two airports service many airliners, including those of Lufthansa, Air Berlin and Ryanair. Lufthansa stated it would cancel all flights from Berlin to Frankfurt and Munich and vice versa.
kbd/jm (AFP, Reuters)