The train covered over 12,000-kilometers (7,500 miles), making it the second-longest route in the world after the China-Madrid link. London is the 15th city to be linked to a new freight network offered by the state-run China Railway Corporation.
In January, the train made the journey from China to the UK, arriving in London at Barking's Eurohub freight terminal, the "Daily Mail" reported at the time.
The train, known as 'East Wind' after former Chinese communist leader Mao Zedong's saying "The East Wind shall prevail over the West," carried 88 shipping containers loaded with whisky, baby milk, pharmaceuticals and machinery on its return journey to China.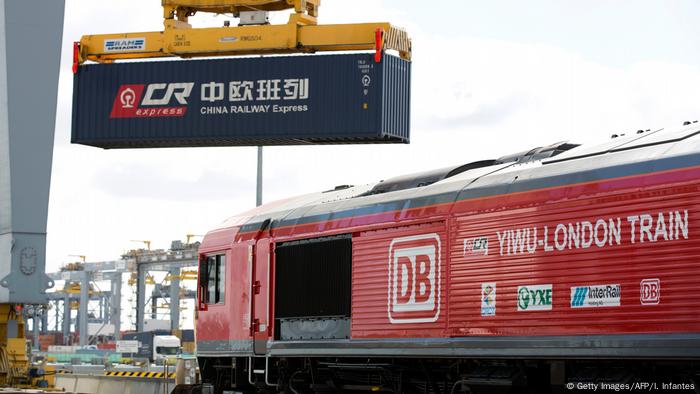 Containers loaded onto the train as it is prepared ahead of departure from a depot in Corringham, east of London, on April 10
It left London on April 10, passing through France, Belgium, Germany, Poland, Belarus, Russia and Kazakhstan during its 20-day trip, two days longer than expected, before arriving in Yiwu in eastern Zhejiang province. Its locomotive and carriages had to be changed en route because of the larger gauge on railways in the former Soviet Union.
The journey should be 30 days faster than moving goods by ship, the provincial government said.
About 80 percent of global trade is currently shipped by sea as freight train services face technical and bureaucratic hurdles.
China means business
China launched its "One Belt, One Road" strategy in 2013 and has been pouring millions into constructing vast infrastructure links. British Prime Minister Theresa May will visit China later this year, with talks likely to include closer trade ties for when Britain leaves the EU, according to British officials.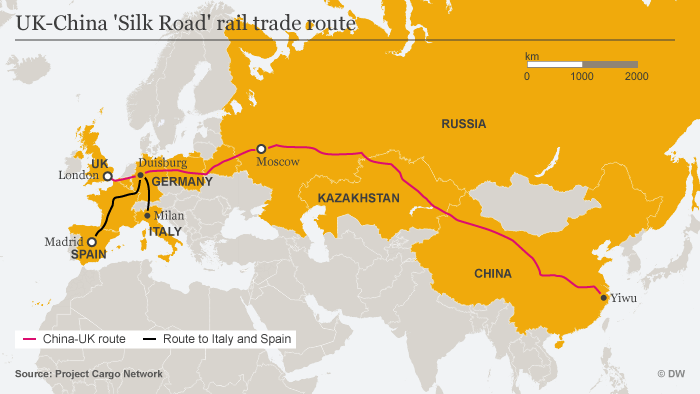 The 'Silk Road' once helped bring goods from China to Europe along the 2,000-year-old trading route.
The new route is longer than Russia's famous Trans-Siberian railway, but about 1,000 kilometers shorter than the record-holding China-Madrid link, which opened in 2014.
China already has a regular direct freight train service to Germany. One route links the Chinese megacity of Chongqing to Duisburg, a steel-making town and one of Germany's most-important transportation and commercial hubs. The other route links Beijing, the capital, to Hamburg, Germany's second-largest city.
jbh/jlw (AFP, Reuters)