A headline in Finland's largest daily newspaper Helsingin Sanomat recently declared that watching bacteria grow provides more excitement than following this year's presidential election campaign, comparing the experiences of watching eight monotonous candidates try to elaborate their positions and observing mutant bacteria exploding into life. The Finnish journalist writing the piece was clearly more fascinated by the laboratory cultivation.
He would not be alone. After a no-drama campaign season, incumbent President Sauli Niinisto had a lead so big in the last poll before Sunday's vote — 63 percent to his closest challenger's 14 percent — that he may even win in the first round, something that's never happened in Finland before.
Read more: Finland at 100: Europe's northern neighbor to Russia brimming with 'sisu'
Caution ruled the campaign
But that is going to be the only cliffhanger in the race. The last few years saw the sudden rise, fall and splintering of the hard-line anti-immigration Finns Party, previously named True Finns, but there won't be any surprises this year. Finns apparently have enough turbulence, with an unpredictable Russia on one side of the border and Donald Trump across the Atlantic.
"It is clear that the recent changes in our political environment have had an impact on the voters," said political columnist Jarmo Makela. "People have become more cautious," Makela told DW. "They seem to give high value to foreign policy experience and want to avoid risks, experiments and adventures."
Niinisto is nothing if not a known quantity. He's been a fixture in Finnish politics since first winning a parliamentary seat for the National Coalition Party in 1987, which he followed with stints as justice minister and finance minister, concurrently serving as deputy prime minister, before winning his first six-year term as president in 2012. Now Niinisto campaigns as an independent.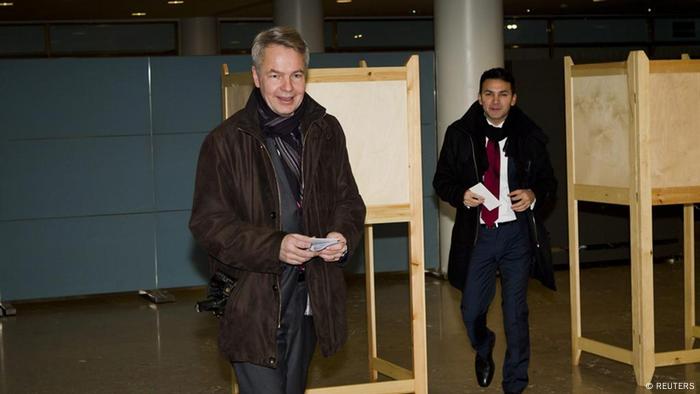 Green League candidate Pekka Haavisto is running a distant second to current President Sauli Niinisto.
Journalist David Mac Dougall interviewed each of the eight candidates in English, featuring them on his "News Now Finland" website. He describes the lackluster race as "when bad elections happen to good people." After his session with the lawmaker running a distant second to Niinisto, Green League candidate Pekka Haavisto, Mac Dougall acknowledged on Twitter, "It's very dull interviewing a reasonable candidate with reasonable positions. He doesn't have extreme opinions or alt-beliefs. Maybe that makes for boring TV. Maybe that's democracy."
'Make Finland Great Again'
His debate with the Finns Party candidate Laura Huhtasaari wasn't so tame. Huhtasaari styles her politics on US President Donald Trump, focusing heavily on opposing immigration, even touting the idea of walls to keep out refugees, and she and Mac Dougall clashed over the presence of foreigners in the country. One of her slogans is "Make Finland Great Again."
Huhtasaari shares third place in the polling with longtime Finnish political heavyweight and member of the European Parliament, Paavo Vayrynen. They also share a dislike for Finnish EU and NATO membership.
NATO not a factor
The possibility of joining NATO is an evergreen question in Finland and this year the only openly pro-NATO candidate, the Swedish People's Party's Nils Torvalds, wanted to make it a campaign issue for the first time. It didn't really catch on, his fellow lawmaker in the European Parliament, Petri Sarvamaa, told DW. "The problem is that as long as political parties don't want to change the status quo, the reality doesn't surface." The "reality," he said, is that if Finland waits until it's faced with a true threat, it will no longer have the option to join NATO. "Voters are sleeping," Sarvamaa said. "It's a catch-22."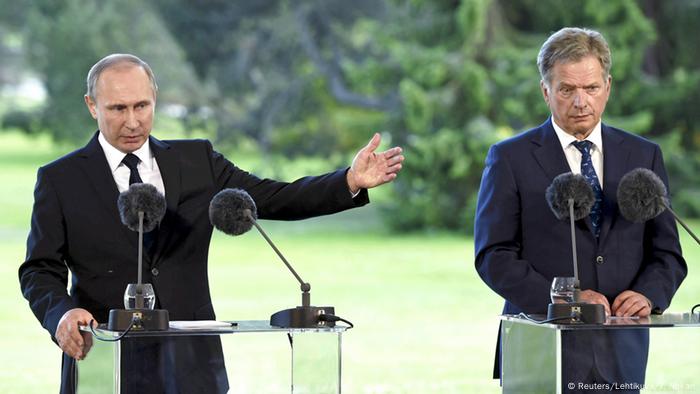 Don't worry, I'm only here to help
Niinisto did get some criticism during his first term for inviting Russian President Vladimir Putin to visit shortly after Russia's annexation of Crimea in 2014. But Erik Brattberg of Carnegie Europe says Niinisto is simply being pragmatic. "Under President Niinisto, Finland has deepened its partnership with the United States and NATO while at the same time maintaining a cordial relationship with Russia."
Bots make late showing
Not even the Russian internet trolls blamed for trying to muddy election campaigns elsewhere in Europe have taken a major interest in the Finnish vote, though in the last month internet security companies reported picking up signs of a botnet attack targeting Finland.
One reason is surely that Finns were early to build up resilience against Russian threats. Jarmo Makela suggests two other reasons. "They consider the result to be too clear" to bother with, he said, "and they can easily live with the result."