British, French and German soldiers lay down their rifles and celebrate Christmas together between their trenches in a moving French film released this month, which also marks the anniversary of the 1918 Armistice.
"Joyeux Noel" (Merry Christmas) -- a joint German, British, Belgian, French and Romanian production directed by Christian Caron -- covers a 24-hour festive truce made by three lieutenants who meet in no-man's land, depicting the historical Christmas truce of 1914, which saw thousands of British and German troops on the Western Front temporarily lay down their arms and meet to exchange gifts and shake hands.
The Frenchman Audebert (played by William Canet), the Scotsman Gordon (Alex Ferns) and the German Horst Mayer (Daniel Brühl) lead their men in laying down their rifles after four months of fighting that saw hundreds of thousands killed
A Prussian soldier sings "Silent Night" in response to the music of the bagpipes as enemy troops exchange chocolates, champagne and liquor. A Scottish chaplain (Palmer, played by Gary Lewis) leads prayers, and the troops hold a friendly football match -- as British and German troops are reported to have done in 1914.
Days off from the war
There is even a love story -- between Prussian soldier, Nikolaus Sprink (Benno Führmann) and Danish singer Anna Sorensen (Diane Kruger) -- who arrives in the German trench on Christmas Eve after a concert in a château occupied by the German general staff.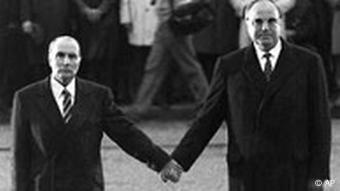 French President Francois Mitterrand and former German Chancellor Helmut Kohl illustrated reconciliation
Christmas Day is spent burying the dead and troops from each side shelter in the enemy trenches while their own are shelled.
And soon war begins again as the commanders put an end to the jolliness: the Scottish regiment is disbanded, the priest returns home, the French soldiers are dispatched to Verdun and the Germans to the Russian front.
"Joyeux Noel" takes some dramatic license but is historically faithful on the whole, focusing on a special truce.
Truces were made throughout the war, said General Andre Bach, former head of the French army's historical service and author of a book on mutinies.
"In some places, tacit truces between enemy soldiers even lasted for months, each one taking care not to fire any rifle shots," he said.
Last survivors dying
Meanwhile, the last known British veteran of the so-called "Christmas Truce" died this week, aged 109 years.
Alfred Anderson died peacefully in his sleep early Monday morning at a nursing home in his hometown of Newtyle, in Angus, north-eastern Scotland, said a family friend.
"He was Scotland's oldest man but he remained lucid almost until the end," said Neil Gardner, a priest and former army chaplain at Alyth Parish Church. "He was a very gracious and unassuming man. He was the last surviving veteran anywhere to have served in the First World War in 1914 and lived a truly remarkable life."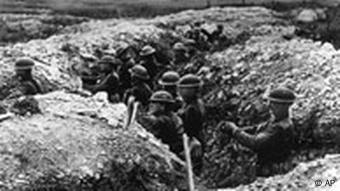 A celebration in the trenches
Anderson's unit -- the 5th Battalion of the Black Watch -- was one of the first to be deployed to France after war broke out. He was 18 at the time of the temporary ceasefire, when the enemies sang carols together, shared cigarettes and swapped tunic buttons.
Rising to the rank of sergeant, Anderson fought until 1916, when he was wounded by shrapnel. Anderson later received France's highest honor, the Legion d'Honneur. He was too old for active service in World War II, but helped set up the British-based Home Guard units.
A fine old soldier
"Alfred was a fine old soldier who was a brilliant example of old world courtliness," said Neil Griffiths of the war veterans' charity the Royal British Legion of Scotland. "He used to say until recently that his ambition was to die shot in bed by a jealous lover. But I think also there was a great sadness in his heart that he had outlived his generation -- all his friends had died."
Anderson's death is believed to bring the number of surviving British servicemen from World War I to just eight. Ferdinand Gilson, 107, is one of six surviving French WWI veterans.
Germany lost more men in World War I than the French, on whose soil the war to end all wars was fought, yet Germany does not commemorate Armistice Day or officially tally WWI veterans.
Although the media last April reported the death of one of the Kaiser's last soldiers, Charles Küntz, aged 108, that information came from the French National Office of Ex-Combatants. Küntz, born in then German-occupied Alsace in 1897, fought under the German flag before becoming a French citizen in 1918.