His non-conformist style makes Jiang Wen an icon in the Chinese film industry. Starting as an actor in critically acclaimed movies such as Zhang Yimou's "Red Sorghum", he then found his own path as a director. His directorial debut was a semi-autobiographical film called "In the Heat of the Sun" (1994). Its 17-year-old lead, Xia Yu, won the best actor prize at the Venice Film Festival.
His second movie "Devils on the Doorstep" (2000), a black comedy set during the Japanese occupation in China, snatched the Grand Prix at Cannes but was banned in his home country. According to reports, Jiang Wen was banned from making films for the past seven years in his home country.
Jiang reemerged as a director with "The Sun Also Rises" (2007) and then directed the highest grossing domestic film in China - "Let the Bullets Fly" (2010). The film's loose sequel, "Gone With the Bullets" (2014), is nominated for a Golden Bear award in Berlin this year. Unlike the first one which was a critical and commercial success, his follow-up film is quite controversial. In Jiang's own words, "the opinions are extremely polarized".
Gala premiere postponed
The Beijing gala premiere of the 3-D gangster film, "Gone With the Bullets," was abruptly called off in December last year due to last-minute issues with censors. Some movie fans believe that censorship made the movie hard to follow.
"Of course censorship has some effect on artistic expression. A lot of people have been saying they have difficulty understanding the movie. I don't think it is fully to do with the censorship because there are also other people who love it and have no difficulty understanding", Jiang Wen told DW.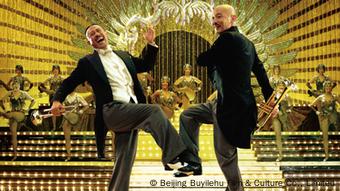 The Beijing gala premiere of "Gone With the Bullets" was called off in December due to last-minute issues with censors
"This is now a phenomenon in China where people tend to think anything they can't easily decipher must be bad. That's a very self-important way looking at the world. I just imagine how bad the world would become if we would all think like that, since there are so many things we can't understand."
The last time Jiang had been to Berlin was some 20 years ago. During that visit, he gained the impression that the rest of the world didn't understand much about China. But in his eyes, that itself was also a generator of many beautiful things. "That allowed us get many (film) awards in fact", he laughed. "I think, today there are still some misconceptions. But the availability of information in both directions is much greater."
Jiang said he is not sure what he is trying to do by bringing this film to Berlinale – Germany's international film festival. He explained, "If you say that I'm trying to use this film to help people understand China - there are other and much better channels. Regardless which countries the audiences come from, I just want to tell them this story."
Searching for truth
"Gone with the Bullets," set in 1920s Shanghai, is based on a true story: a playboy kills a popular prostitute. Thanks to his fascination with the 1920s, Jiang came up with an ambitious idea, "I wanted to make what we called the Beiyang period in China into a film genre the same way that the Wild West and the prohibition era have become film genres in American cinema.
"From 1911 to 1928, the country was officially called Republic of China, but in reality, it was actually split between different warlords. It was one of the liveliest periods in Chinese history. It is therefore quite theatrical and it is good for making films", Jiang added.
In addition to history, Jiang is also obsessed with the quest for truth. "The leading character in this film is somebody who is unable and also unwilling to help the world move in the direction of fakery. He is somebody who wants to seek out truth. By making this film, I was also trying to find my way towards truth."
"A lot of work being done here is challenging or going against people's basic assumptions. For instance, the high status of the prostitute. Changing people's preconceptions is something you have to do in order to search for truth. Of course normally that's not done because it also challenges social stability and stories, as a result, are often told much more simply," Jiang said.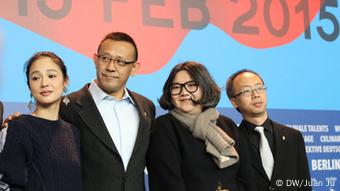 'In Chinese cinema there are fewer interesting movies these days because people are too obsessed with money,' said Jiang
China 'beyond parody'
With special effects by German-based Pixomondo and co-production with American film-giant Columbia Pictures, "Gone With the Bullets" is a big-budget action-comedy film. However, Jiang refused to call it a commercial movie: "I personally don't distinguish between artistic and commercial films. As a director, what I'm trying to do is to create interesting stories", Jiang said.
"But in Chinese cinema, there are fewer interesting movies these days because people are too obsessed with money. This leads them to make simple films that are easy for people to understand."
After being asked if his latest film is a parody of modern China, he burst into laughter again, saying, "China today is beyond parody. It is already a huge satirical work. Any film you would make about China is going to be a satire of China."