The French sports minister has condemned the "intolerable" monkey chants aimed at French players Paul Pogba and Ousmane Dembele during an international friendly against World Cup hosts Russia in Saint Petersburg.
Laura Flessel hit out at the chants on her Twitter account on Wednesday, while world football governing body FIFA said it would investigate the incident which has raised new fears of racism in Russia less than three months before the World Cup kicks off.
Read more: UEFA charges Zenit St. Petersburg with racism over Ratko Mladic banner
"Racism has no place on the football pitch," said Flessel, a former two-time Olympic champion in fencing.
"We have to take action together on a European and international level to bring an end to this intolerable behaviour."
During the second half of France's 3-1 victory over Russia on Tuesday, a photographer reported hearing monkey chants aimed at Barcelona winger Dembele and Chelsea midfielder N'Golo Kante, while internet users claimed to have heard Manchester United midfielder Pogba targeted.
"We are gathering the possible evidence relating to the discriminatory incidents reported by the media from the match," said a FIFA spokesperson, adding that they did not want to comment before evaluating the available information.
FIFA is waiting for a report from the Football Against Racism in Europe (FARE) anti-discriminatory body, which was present at the stadium.
Russian authorities 'heard nothing'
Neither the players nor the French team management commented on the allegations, while Russian authorities said on Wednesday they hadn't heard anything but were prepared to look into it.
"If this information is confirmed, then of course we will study both the video replay and everything else that happened around the match before giving our assessment," the Russian Football Union's head of security Vladimir Markin was quoted as saying by Russian newspaper Sport Express.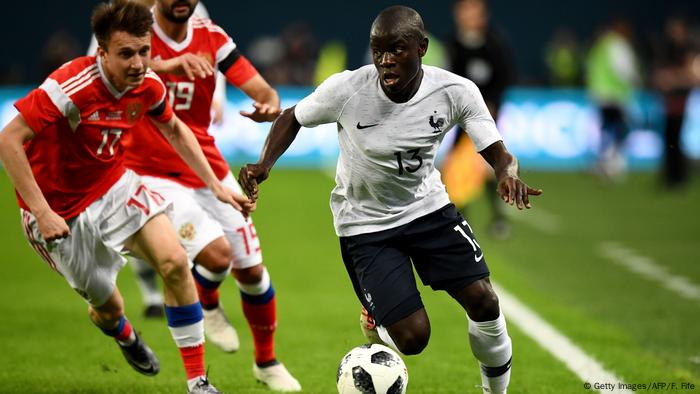 N'Golo Kante, right, is one of the French players on the end of the reported racial abuse
But his RFU security council colleague Alexei Tolkachyov stressed they had heard nothing.
"If necessary, we are ready to study this episode. But I will repeat: we did not record anything of the kind," Tolkachyov was quoted as saying.
Racist and discriminatory behaviour is not uncommon in the Russian Premier League, including among fans of Zenit St Petersburg.
Only last week, UEFA opened disciplinary proceedings against the club for racist chants during a recent Europa League match against Bundesliga side RB Leipzig.
Russia hosts the World Cup from June 14 to July 15.
mds (AFP, Reuters)