A court in Dresden dismissed a suit against prominent political scientist Steffen Kailitz on Friday, ending a long legal battle over his comments concerning Germany's far-right National Democratic Party (NPD).
The NPD had been seeking an injunction to block Kailitz from saying that the party planned "racially motivated crimes against the state."
Kailitz, who is a totalitarianism researcher at the Hannah Arendt Institute, made the comments in an article he wrote for German newspaper "Die Zeit" last April.
He also wrote that the nationalist party wants to "expel 8 to 11 million people from Germany, including several million German nationals with immigrant backgrounds."
The court ruled that Kailitz' comments were protected under freedom of expression and that his arguments were a question of opinion.
"A statement of opinion is not examined for its truthfulness," presiding Judge Christoph Wittenstein said.
Kailitz was also one of the top experts to testify in the recent German Constitutional Court case on whether to ban the NPD.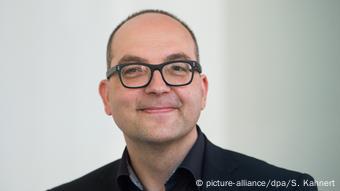 The court sided with Stefen Kailitz on Friday, ruling that he was protected by freedom of expression
Controversial initial ruling
The Dresden case prompted outrage within Germany's scientific community last year when a judge in the city ruled in favor of the NPD.
Judge Jens Maier, a prominent member of the hardline wing of the populist Alternative for Germany (AfD) party, granted the NPD's application for an interim injunction against Kailitz in May 2016.
The political scientist was thereby barred from repeating his comments or facing a 250,000 euro fine ($272,700) or six months in jail. Following backlash, Maier persuaded the NPD to withdraw its initial suit in October last year - but the extremist party continued in another proceeding against Kailitz.
Maier's possible political bias was called into question during the case, particularly in light of a speech he delivered in which he argued against the "creation of mixed peoples" and declared Germany's "culture of guilt" concerning the Holocaust as over.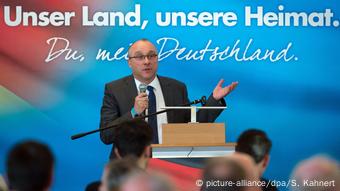 Dresden judge and AfD-candidate Jens Maier initially ruled in favor of the NPD last year
In February of this year, the state court in Dresden barred Maier from presiding over press law and criminal libel cases to avoid doubts about his impartiality.
Last Friday, he was accused of having expressed understanding for Norwegian mass murderer Anders Breivik. In 2011, Breivik killed 77 people in what he claimed was an attempt to defend Norway against "Islam and cultural Marxism."
Maier, who is running as an AfD candidate, is currently on the party's candidate list in Saxony for Bundestag seats. Depending on the election result and his position on the list, he could be granted a spot in the German parliament after the general election in September.