The far-right group Identitarian Generation was unknown in mainstream media before obstructing a humanitarian vessel transporting migrants rescued at sea last month.
In a scene reminiscent of Greenpeace activists blocking whaling ships with inflatable boats, members of IG's Italian and Austrian factions,accompanied by Canadian alt-right journalist Lauren Southern, temporarily stopped a SOS Mediterranee rescue ship from entering the port of Catania before being intercepted by the Italian Coast Guard.
Since the action, Italian IG leader Lorenzo Fiato (pictured at top) said his group has crowdfunded 73,000 euros ($82,000) and recruited more than 150 members throughout the country. The funds will be used towards future actions aimed at ending "massive" informal migration to Europe, mostly by targeting humanitarian search and rescue missions like those run by Doctors Without Borders (MSF), which some have accused of acting as a "taxi service" for migrants.
On Friday afternoon, IG launched its first Italian tour in Catania to spread its message and recruit members. Though attendance was light, the group's quick ascent has raised concerns among humanitarian and leftist circles, who fear a new breed of disruptive, right-wing activism might be taking shape in Europe.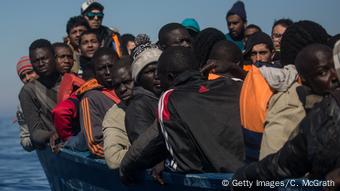 Thousands of migrants die every year making the perilous crossing of the Mediterranean Sea
Borrowing the Greek lambda as its logo, a reference to the Spartan shields used against the Persian Empire, IG presents itself as a movement against "the Islamic invasion of Europe" while dismissing nationalist labels placed on comparable groups. In an interview with DW, Fiato said he was a "Europeanist" at heart and spoke proudly of initial comparisons to Greenpeace.
"It's fascinating, really, because we were able to use the tactics of the left to advance the causes of the right, and we're astounded by the support we've gotten," Fiato said. "We've struck a chord with the public. People are disillusioned, thinking they must accept things as they are, but with this small boat, we were able to demonstrate what we are capable of. That change is possible."
'Integration is a lie'
While informal migration via the "Balkan Route" has largely stopped since the 2016 EU-Turkey agreement, migrants have been arriving in Italy via Libya in record numbers, with a 23 percent increase in the first five months of the year in comparison to the same period in 2016, according to the Italian Ministry of the Interior. The route remains dangerous, causing about 2,500 deaths so far in 2017, with roughly 60,000 migrants arriving in Italy.
In Fiato's view, uncontrolled inflows of migrants from "vastly different" backgrounds threaten EU social and cultural structures, and informal migration must be stopped before foreigners displace native Europeans.
"Integration is a lie," Fiato said. "[EU leaders] keep saying people should help integrate the migrants and to accept their cultural backgrounds, but in many ways, our cultures are unbridgeable."
Fiato told DW he was not against Islam in the Middle East, but he was "against Islam in Europe." He also said migrants from "more similar cultures," such as Eastern Europe, were less threatening and more adaptable to Western European social structures than migrants of other backgrounds.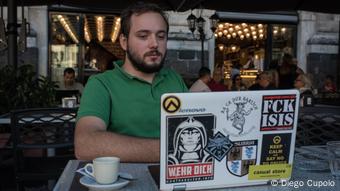 Fiato: 'Integration is a lie'
Fiato, a 23-year-old political science student from Milan, said he helped establish IG in 2012 to mirror anti-immigration movements in France. As far as ideology, he cited inspiration from right-wing French authors such as Alain de Benoist, Guillaume Faye, Renaud Camus and Dominique Venner.
When asked if he supported the creation of humanitarian corridors, in which those seeking asylum could bypass perilous boat trips by applying for international protection from their home countries, Fiato said no.
Instead, he backed the repatriation of migrants and increased collaboration between the EU and North African nations to close smuggling routes, though he was unsure if the 6 billion euro EU-Turkey agreement should be replicated elsewhere.
"In my view, the best solution is [migrants] work to improve their own countries," Fiato said.
Interaction not integration
Observing IG's growth from a distance, long-time activist Alfonso Di Stefano, of the Anti-Racist Network of Catania, said the group was based on ignorance and a "lack of understanding of the root causes behind migration."
"If they read what was being said about Italians moving to the US in the early 1900s, they would find the same accusations being made about us back then that they are repeating today towards migrants," Di Stefano told DW.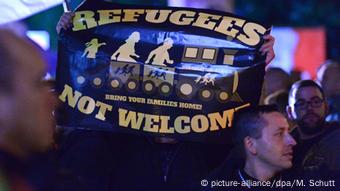 Anti-immigration, right-wing populist movements have gained traction in Europe
"We also don't like the word 'integration,'" Di Stefano continued. "We want to advance the idea of interaction between cultures, which is critical to the success of a multicultural Europe."
While Di Stefano criticized IG, he acknowledged the shortcomings of the political left in fostering open dialogues on migration, with members often shutting down opponents as racists. He also noted right-wing groups were increasingly using Marxist themes, posing elites against the people, which has led to populist victories at the voting booth in both The UK and the US.
Lucia Borghi, a migration monitor from Borderline Sicilia, faulted Italian mass media in mishandling topics related to immigration by using terms like "invasion" and "flood."
"These movements are built over time and their ideas have been planted in fertile grounds," Borghi told DW. "The group spawned from anger, from rage, from the stomach, really … to combat it is a daily undertaking in how we frame the complex discussion on migration."
In the coming weeks, Fiato will campaign in northern Italy, and said he's designing a phone application for IG members. Tentatively called 'Patriot Peer,' the app will help like-minded individuals find each other through geolocation services and help foster networks throughout Europe.