A spokesman for the Higher Administrative Court in Münster confirmed on Saturday that it had rejected an appeal by Cologne police to ban an anti-Erdogan demonstration called by the far-right political party Pro NRW for Sunday.
The court upheld an earlier decision by a Cologne court to allow the demonstration to go ahead, despite police fears that violent members of the HoGeSa (Hooligans Against Salafists) group could join in the protest.
The demonstration is to take place under the motto "No tributes to Erdogan in Germany: Stop the Islamist autocrat from the Bosporus" in response to a planned rally by up to 30,000 Erdogan supporters in the city on the same day.
No Erdogan live presentation
The Münster court, which is responsible for administrative disputes, also rejected an appeal by the organizers of the pro-Erdogan demonstration to be allowed to show the Turkish president live on a large screen during the event.
Police have voiced fears that such a presentation could cause participants to become over-excited.
Police in Cologne are planning to deploy 2,300 officers and have six water cannon on hand in case violence does break out at any of the demonstrations planned in the city on Sunday, which also include rallies by leftists and youth organizations affiliated with German parties.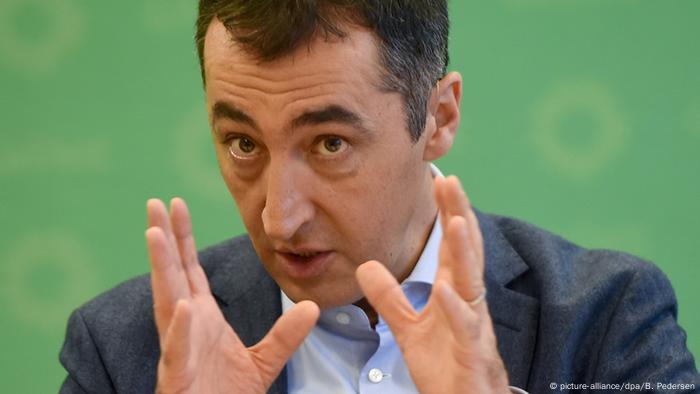 Özdemir warned of an "atmosphere of fear"
Erdogan critics 'targeted'
In comments carried in the Saturday edition of the "Süddeutsche Zeitung" newspaper, Foreign Minister Frank-Walter Steinmeier called on participants in the pro-Erdogan demonstration to display moderation.
Steinmeier said it was "not permissible" to bring domestic political tensions from Turkey to Germany or to intimidate people with different political views.
The leader of the Greens, Cem Özdemir, also criticized alleged attempts at intimidation ahead of the demonstration, telling newspapers of the Funke media group that critics of President Recep Tayyip Erdogan among Germany's Turkish community were being targeted.
Özdemir said that demonstrations for or against Turkish leaders had to take place "on the basis of the [German] legal system."
"An atmosphere of fear must not be created," he said.
Turkey in turmoil
Sunday's demonstrations come as Erdogan continues with purges of the army, judiciary, the education system and the media following a failed coup on July 15.
Critics of the president fear that he might be using the coup as an excuse to increase his already tight political grip on the country.
Some three million people of Turkish origin live in Germany, making it the world's largest Turkish diaspora.
tj/jlw (AFP, dpa)