The organizers of the Formula OneSingapore Grand Prix on Friday canceled this year's race for the second consecutive year.
Drivers had been set to race at the Marina Bay circuit on October 3, but authorities and F1 have pulled the plug amid fears that coronavirus travel restrictions will make it impossible for the event to go ahead.
Singapore has kept infection rates low by enforcing a strict border control policy; foreign nationals without permanent residency can only enter the country with the express permission of the government.
What did organizers say?
"To cancel the event for a second year is an incredibly difficult decision, but a necessary one in light of the prevailing restrictions for live events in Singapore," said Colin Syn, deputy chairman of Singapore GP Pte Ltd.
"We would not be able to deliver a full event experience fans have come to expect over the years, while safeguarding the health and safety of our fans, contractors, volunteers and staff."
Thousands of spectators had been expected to attend the event, although tickets had not yet been put on sale. German driver Sebastian Vettel, then with Ferrari, won the last Singapore Grand Prix in 2019.
Formula One's schedule could face more changes as officials look to Turkey, China and the United States as a possible replacement for the axed race.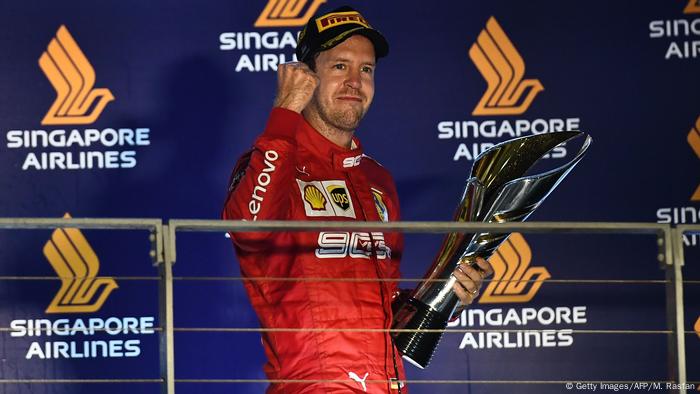 German driver Sebastian Vettel won the last Singapore Grand Prix in 2019
Doubts linger over other F1 races
The pandemic has already caused numerous changes to the 2021 calendar. The season-opener in Australia was postponed from March to November and the Canadian Grand Prix set for June 13 was canceled.
There are 23 Grand Prix planned for this season, but question marks still hang over the events in Japan, Australia, Mexico and Brazil.
Japan is currently experiencing an increase in COVID-19 infections, while Mexico and Brazil have some of the highest case numbers in the world.
Brazil is already on the UK's coronanvirus travel red list, which imposes strict testing and quarantine requirements.
That could hamper the race going ahead because six of Formula One's ten teams are based in the UK.
Australia currently has a highly-restrictive travel policy, with the country's borders effectively shut since the start of the pandemic.
In the 2020 season, Formula One held consecutive races at Austria's Red Bull Ring, Silverstone in England and the Bahrain International Circuit as a means of completing the season.
In each case, the season calendar was arranged to allow two weeks at each track.
jf/rt (AP, Reuters)