An explosion in an apartment building in the western German city of Wuppertal injured a number of people, at least five of them seriously, according to local emergency services.
Police say the blast rocked the multistory building shortly before midnight with a huge bang, scaring people in surrounding homes so much that they ran out into the street in a panic.
Debris from the building fell on top of vehicles parked outside
Several small fires broke out inside the building, and firefighters struggled to put out the flames in the early hours of Sunday because parts of the building kept collapsing.
Some residents managed to escape, but others became trapped and needed to be rescued by firefighters. A large number of rescuers worked to free people from the building.
A total of 31 people were able to either extract themselves from the building or were helped out by rescuers.
'Picture of devastation'
By Sunday afternoon, it was confirmed that all residents had escaped the building and no one was missing.
Fire department spokesman Tim Luhmann said, "Checking residents' statements, we can confirm that no one was left in the house."
Specialist engineers were stabilizing the partially collapsed building to prevent it from falling completely.
Police described the scene as a "picture of devastation," and photos showed piles of rubble around the building. Furniture and windowframes also littered the street.
By Sunday afternoon a mechical excavator had arrived to begin clearing away structural debris.
The cause of the blast was not immediately clear.
An investigation was underway on Sunday morning. "How this came to pass and what the background is, that remains completely unclear," a police spokesman said.
Police said they have been unable to enter the building's ruins to investigate due to safety issues but that the investigation is ongoing.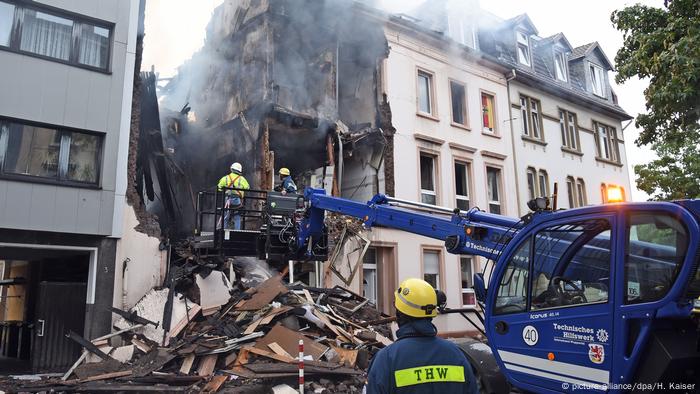 Piles of rubble in front of the multi-story apartment block
cmb, kw/rc (AP, AFP, dpa)
Each evening at 1830 UTC, DW's editors send out a selection of the day's hard news and quality feature journalism. You can sign up to receive it directly here.