Europe is home to widely divergent minority populations, including the Danish population in northern Germany, the Basque people in France and Spain, the German speakers of South Tyrol in northern Italy, the Roma who live throughout Europe and the Tatars in Crimea.
In total, over 300 ethnic groups exist in Europe. Every seventh resident on the continent speaks a regional or minority language or belongs to one such population.
The fate of these groups in an increasingly converging Europe is the subject of the three-day FUEN (Federal Union of European Nationalities) Congress 2014, which is taking place this weekend in Harrislee, a German town along the Danish border.
Representatives from 200 autochthonous minorities from around 30 countries are present, along with politicians and other guests. In this case, "autochthonous" refers to groups that have evolved historically - that can be, for example, peoples who do not have their own state (such as the Sami people in Scandinavia) or ethnic groups who became minorities after national borders were redrawn (such as German-speaking Belgians).
Drawing distinctions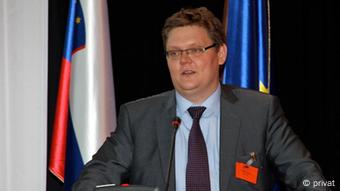 Diedrichsen appeals for more autonomy for EU minorities
For the organizers of the congress, differentiating such historically-based groups from immigrant groups, who often also form large minorities, is important.
"Of course, minority groups of immigrants must have the opportunity to cultivate their own language and culture, but a difference does exist there," said Jan Diedrichsen, director of the FUEN Secretariat and a member of the German minority in Denmark. "That doesn't mean that we should work against each other, but we have differing needs."
FUEN organizes the meeting together with the association for the German-speakers in Denmark and with Sydslesvigsk Forening, the Danish in Germany. The German-Danish border region is considered a model when it comes to peaceful and respectful coexistence.
Ukraine defines the agenda
The crisis in Ukraine represents a focal point for this year's congress. With more than 20 national minority groups, the Eastern European country has the most minority groups on the continent. The conflicts in Crimea and in eastern Ukraine have demonstrated how quickly hatred and violence can emerge in an otherwise harmonious environment.
The congress keynote speech was originally set to be delivered by Mustafa Dzhemilev, the leader of the Crimean Tatar people. However, due to escalating violence at home, he had to travel to Vienna and the US for political talks.
Instead, Ahmet Ozay, a personal advisor to Dzhemilev, spoke to the congressional attendees. In an interview with DW, he stressed that the situation of his people has dramatically deteriorated since Russia took control of Crimea. He says representatives of the ethnic minority have been prevented from returning home in some cases or faced abuse after coming back from abroad.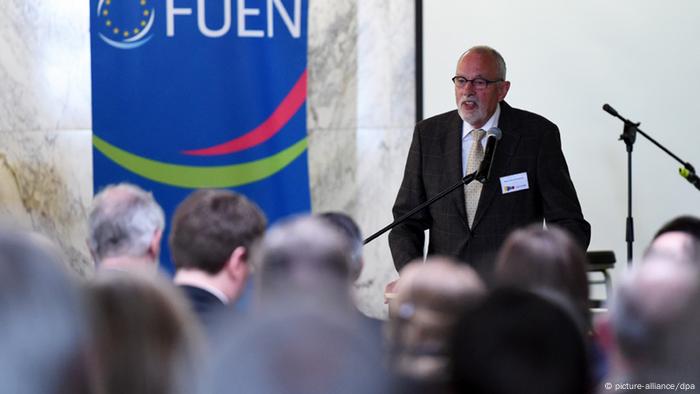 The Federal Union of European Nationalities hosted the congress
German government 'troubled'
Dzhemilev was also prevented from returning to Crimea by Russian officials. "Without legislation or a court ruling, he - at age 70 - will not be able to return to his homeland," Ozay says.
The German federal government issued a statement on Friday (09.05.2014) on Dzhemilev's situation, saying via spokesman Steffen Seibert in Berlin, "We are troubled to have heard that the leader of the Crimean Tatars, Mr. Dzhemilev, has repeatedly been refused entry to Crimea."
Under Ukrainian leadership, Ozay said, Crimea's various ethnic groups had lived peacefully together and enjoyed extensive autonomy. Now, he adds, the "climate is changing."
EU 'not fulfilling its duties'
Representatives from the groups on hand haven't just discussed Ukraine but also shared experiences from their political work.
"We are firmly convinced that the European Union is absolutely not living up to its duties when it comes to language diversity and minority groups," said Jan Diedrichsen. "That's why we sat down to put together 16 concrete recommendations in terms of law where the EU could become active."
In Diedrichsen's view, Europe's future is bound up closely with protection of minorities, saying that when this principle is neglected, conflicts often emerge.
He names South Tyrol as a positive example: "Italy's territorial integrity is preserved, but the German- and Ladin-speaking residents of South Tyrol are given very wide-reaching autonomous rights."