The European University in St. Petersburg (EUSP) opens its doors at 10:00 a.m. - a dream for many students. Unlike at other educational institutes in the city on the Neva, you don't have to show an ID card to get in. You're not asked why you've come and where you're going. But following the Arbitration Court of St. Petersburg's decision on March 20 to revoke the EUSP's license, the university's 200 students no longer know what the future holds, or if they'll even be able to complete their studies.
Founded in 1994, the EUSP began operating in 1996 as a graduate school for social sciences and humanities with the support of the city of St. Petersburg. It's one of the few non-state universities fully qualified by the Russian Ministry of Education to award graduate degrees. Over the past 20 years, the university has gained a good international reputation.
Students uncertain
Many students at the university no longer want to talk to journalists. Some are afraid; others are simply fed up of having their quotes twisted in media reports. Ph.D. student Dmitry Shukov comments briefly while on his way to a seminar: "I'm studying the problematic term of terrorism in connection with Hegel's reception during the Reign of Terror in France," he says quickly, adding that he doesn't know where else he could continue his studies in Russia if the EUSP were to close.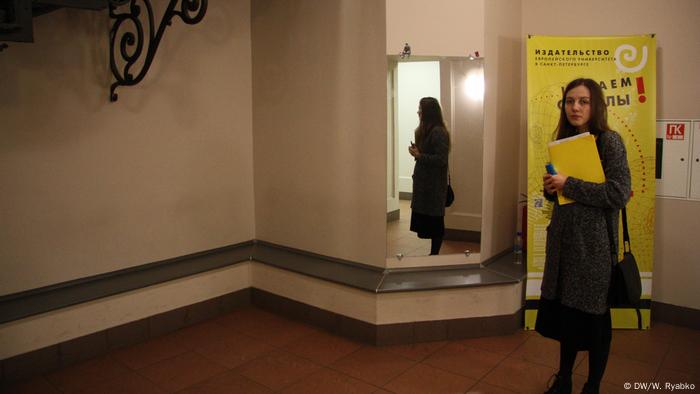 Shukova: 'I'm less concerned with my degree than I am about my research'
Ph.D. student Angelina Shukova can't believe that the dispute about the university's educational license has gone this far. "I don't know what is happening behind the scenes. There's no real information, just rumors. I'm less concerned with my degree than I am about my research, which the European University is supporting," she said. Shukova is concentrating on child development in the age of smartphones and tablets, and receives a stipend from the university. "Before I wasn't aware of just how valuable that is, and what I stand to lose," she said.
Problems following inspections
The university's problems began with a series of inspections by various authorities. In the fall of 2016, a total of 120 violations against regulations were reported following several unscheduled checks. In some buildings, for example, old windows had been replaced and walls torn down without the proper permission. The authorities also noted the lack of a fitness room and an information stand against alcoholism. The local real estate authority filed a lawsuit against the university, demanding that its rent contract be canceled and the premises vacated over failure to comply with usage and preservation clauses.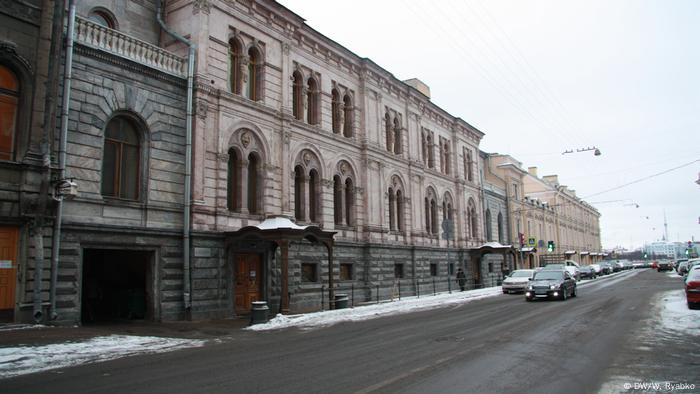 The university is housed in the palace of Yekaterina Mikhailovna Dolgorukova
In December 2016, the Federal Service for Supervision of Consumer Rights Protection and Human Welfare briefly revoked the university's license. The EUSP's leaders appealed to Russian President Vladimir Putin to intervene. One week later, a court in Moscow reinstated the license. But on March 20, the Arbitration Court of St. Petersburg again revoked the university's license. Among the many rumors circulating is speculation that investors have expressed interest in the institute's buildings.
Students vow to continue their studies
"We have a month to appeal the decision, and if that doesn't work then we will have to reapply for a new license," said Alla Samoletova, who runs the rector's office. "Exams have already been planned for our doctoral students. They have to defend their theses. And now they're in this situation where they have to change everything when they're so close to reaching their goal," she said.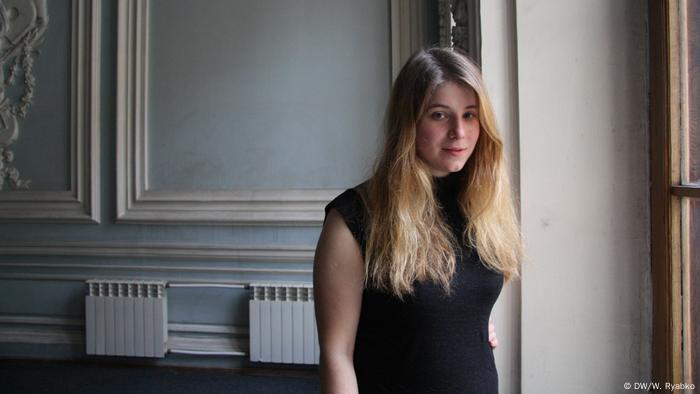 Yeremenko says that no matter what happens, the students will continue their studies
Julia Yeremenko, the student body representative at the EUSP, said that the students are prepared to help their university and intend to continue their research. "Just because teaching is not allowed doesn't mean they're going to stop their studies," she said. When the license was briefly revoked in December, students continued to come to university, working independently in the university and seminar rooms. But if the EUSP is forced to close its doors, then even that will no longer be an option.