The European Commission (EC) presented its plans to boost security within the bloc at a meeting in Strasbourg on Tuesday. The EC's agenda for 2015-2020 included a strategy paper, which proposed an anti-terror center to help national security agencies in tracking suspicious bank accounts and extremist websites.
The paper, called "The European agenda for security," was not a concrete proposal for a new law, which would require the approval of European Union (EU) member states and the EU parliament.
Sharing existing information
Terrorism, organized crime and computer crimes do not stop at Europe's borders, the EC's Vice-president Franz Timmermans argued, adding that "we need to ensure, that our available knowledge can be put to better use all over Europe."
The EU's Commissioner for the Interior, Dimitris Avramopoulos, said all member states agreed that they needed to "coordinate processes and exchange information to gain victory over changing threats."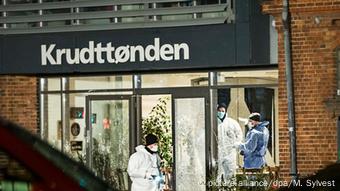 Two victims and the perpetrator were killed in an attack in this cafe in Copenhagen
"Terrorism and radicalization are big threats for the EU's internal security," EC officials wrote. They demanded EU nations to exchange information on suspicious persons and to create special features for risk assessment in the EU-wide police database in order that security forces could easily identify potential jihadists. This database would also be connected to the Interpol's database of stolen passports.
Strategy to counter jihadists
EU countries, including Switzerland, Norway, Iceland and Liechtenstein, who are part of the Schengen agreement, wanted to create new criteria to identify jihadists who travel from Europe to Syria and Iraq. Security agencies believe that some of these militants, who return after military experience, could plan terror attacks in Europe.
EU officials also proposed a center to counter radicalization of youths. Brussels would also found an EU forum together with internet agencies to look into methods of countering jihadist propaganda in social media.
The officials also urged EU members to come to a consensus sooner on saving data of flight passengers to identify jihadists. This proposal however, met with opposition from Greens MP Jan-Philipp Albrecht, who said, "We do not need a completely transparent passenger. The collection of all possible data on the passenger, from his bank accounts to his eating choices is disproportionate."
EU countries have been severely shaken after a spate of terror attacks in the past few months. The first occurred when an Islamist in Brussels targeted a Jewish museum last year, killing four. On January 7 this year, terrorists attacked satire magazine Charlie Hebdo's office in Paris. A total of 17 people were killed in related attacks that lasted several days.
The last terror attack happened in Copenhagen in February, when a gunman attacked an event on freedom of expression, killing two. One of the victims, Lars Viks, was a Swedish artist, famous for his drawings of Prophet Muhammad.
mg/bw (AFP, dpa)