The European Central Bank (ECB) unveiled the new €100 and €200 notes to the public at its headquarters in Frankfurt on Monday.
Like other bills in the second-generation "Europa" series, introduced in 2013, the new banknotes will include different holograms in a silver strip and an "emerald number" showing the denomination.
The new bills have also been updated to include the latest anti-counterfeiting features, including an improved "satellite" hologram of small euro symbols, while also being reduced in size to match the height of the €50 bill. That means notes will only be distinguishable by their length, with the longer ones bearing a higher value.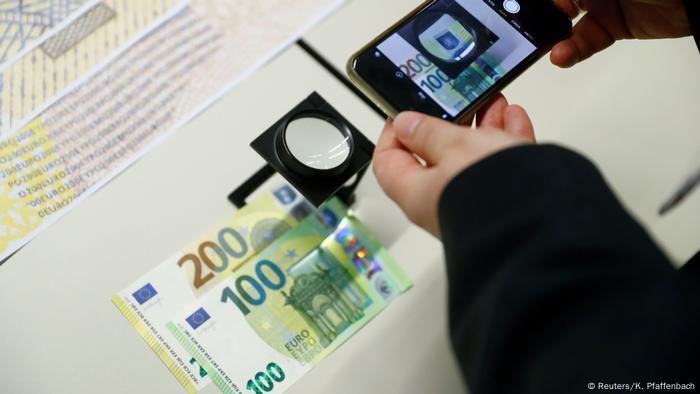 The new euro notes are tipped to come with the latest security and anti-counterfeiting features
ECB board member Yves Mersch told reporters in Frankfurt that green €100 banknotes make up some 23 percent of the value of paper money in circulation in the eurozone, making them "not just a niche product and also not just a rich (person's) product."
Despite the increasing use of electronic payments, Mersch said Europeans remained attached to paper money. Banknotes, he said, were "the most inclusive payment method" since they do not require special equipment and are equally available to all, including the elderly, handicapped and minors.
Nevertheless, more than a million cash machines across the 19-member eurozone will have to be adjusted before the new notes go into circulation in May next year. The older notes will remain legal tender but will gradually be phased out from circulation.
Each evening at 1830 UTC, DW's editors send out a selection of the day's hard news and quality feature journalism. You can sign up to receive it directly here.
dm/rc (dpa, AFP, AP)