Along Albania's Vjosë river valley, local men and women sing about the stream and what it means to them. Their polyphonic songs listed by UNESCO as "an intangible cultural heritage". The voices rise and fall like the river as it swells and diminishes with the rains, or dives around the sand and gravel bars.
"People from immemorial time have been copying what is happening in the river. So the valley itself, the water flow, together with the wind, actually creates an atmosphere that has been copied by the people," Professor Spase Shumka, an Albanian scientist and river expert told DW in an interview.

He points out that while music inspired by the river is listed for protection, the river itself is not. More than 400 new hydropower plants are planned for Albania alone and Spase worries about the ecological impact.

"What is happening in Albania with some hydropower is that no minimum ecological standards have been respected."
He is concerned about the fish that live here - especially, the Huchen, otherwise known as the Danube Salmon. Growing up to 1.2 meters, its habitat is free flowing rivers with plenty of sand and gravel banks. Dams cover those banks and block its migration from river to sea and back, unless special measures are taken to allow them to pass. Even then say biologists, the fish often encounter problems.
"The blue heart of Europe"

Other Balkan countries are also investing heavily in hydropower. Between the Austrian border and Albania, 570 dams are planned and several are already being built. The river protection NGO Riverwatch, and the German charitable foundation EuroNatur, are now campaigning against this wave of construction.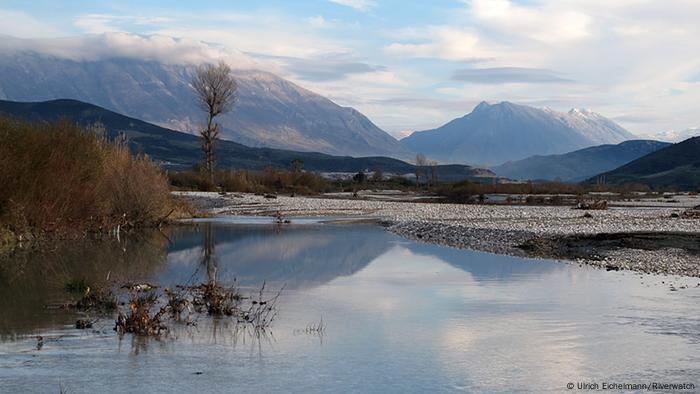 Dams could block key fish migration routes in Albania's Vjosa River
"We call it the blue heart and it's really the center of the intact rivers," says Ulrich Eichelmann, the fresh water expert for Riverwatch. A seasoned campaigner against dam building, Eichelmann says there is nowhere else in Europe to compare with the rivers of the Balkans.

"We have such an amazing amount and diversity of rivers and creeks, but the bad side is that there is no place on the continent where there are so many dams under construction or being planned - so it's like a dam tsunami that is threatening the blue heart."

Can hydropower and biodiversity co-exist?
Balkan rivers like the Danube and Drava are often well dammed for their hydropower long before they reach the Balkans. In Austria, through which both of these rivers flow, 68 percent of the country's electricity is produced from around 3,000 small hydropower plants plus dozens of medium and large units. Small hydropower plants are classified as those generating up to 10 megawatts while plants classified as large start at around 300 megawatts.
"It doesn't really depend on the megawatt, it depends on the measures you have taken to guarantee fish migration," says Erwin Mayer, General Secretary of the Austrian Small Hydropower Association. He says if safeguards are in place, the Balkan dams should be built and argues that the dams can be built without harm to the fish.

"And if you have these fish passes then you should use the renewable energy sources that are already there because you can use wind, you can use solar, but you also need a base load production of renewable energy and this can be provided by hydropower."

A threat to fragile wetlands
At the confluence of the river Drava and the Danube are the Kopački Rit wetlands. This is a twisting maze of waterways, marshes, reed-beds and wildlife. "One of the best in Europe," says the World Wetland Network, and "one of the treasures of the Danube basin," says the International Committee for the Protection of the Danube about this inland delta in north-east Croatia.
But the push for hydropower in the Balkans also threatens this remnant of Europe's few remaining wild wetlands. A dam is planned about 26 winding kilometers upstream from the delta. Kopački Rit depends on regular flooding for its survival.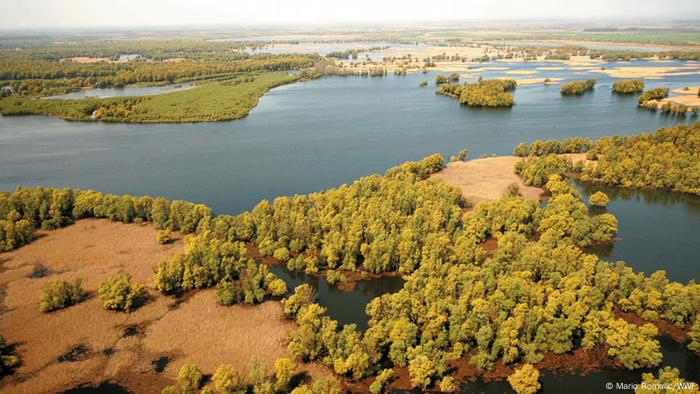 Conservationists fear for wildlife in Croatia's Kopački Rit wetlands
"If you hold the water back with a dam then this will definitely have an impact on the nature here," says Tibor Mikuska, a conservation biologist in the Kopački Rit nature park.
But Croatia, like all Balkan countries, is under pressure to reduce its dependence on fossil fuels and funding for dams like the one planned for the Drava is readily available from international institutions like the World Bank and the European Bank for Reconstruction and Development (EBRD).
Environmental cost of renewable energy
The argument about dams divides environmentalists. Dams do not burn fossil fuels, like gas or coal, which means the energy from the stored waters is clean and renewable. But what if this cleaner energy wipes out local wildlife and livelihoods?

The Vjosë River begins its journey in the mountains of Greece but most of its 270 kilometer journey is through steep sided Albanian valleys before it empties its waters into the Adriatic. Along this stretch, not one dam or reservoir interrupts the flow. However eight hydropower dams are planned, and in 2007 an Italian company began building on a narrow stretch of the Vjosë near Kalivaç. Construction stalled in 2009.
"The money's gone," says Ulrich Eichelmann from Riverwatch. "Nobody knows where the money goes," he says, adding that he suspects corruption.
Locals too are starting to ask whether their government's ambitious plan to build dams and sell electricity to neighboring countries is worth the loss of their wild rivers.
"They started to protest because nobody was asking them and sometimes the hydropower has been constructed without permission from the local government, without asking people," says Spase Shumka.
As a result of local concerns Albania's government is currently reviewing more than 100 previously issued hydro dam permits. But in one of Europe's poorest countries, and the remainder of the Balkans, there's enormous pressure for international money to flow in and for hydro-electricity to flow out. Despite the anti-dam campaign it seems inevitable that many untouched streams will be dammed.