One in every 10 members of the workforce in the euro zone did not have a job in December, according to the EU's Eurostat agency.
The 10 percent figure for December was the highest since the currency was launched a decade ago.
It represented a small rise on the November unemployment rate, which was 9.9 percent according to revised figures presented on Friday. A total of 87,000 people lost their jobs during the month, bringing the number of jobless across the 16-member currency bloc to 15.76 million. The total increase was down, with 102,000 people joining benefits queues in November.
Nearly 2 in 10 Spaniards jobless
Spain was shown to have the highest unemployment rate, at 19.5 percent, up from 19.4 percent the previous month. The country, has to struggled to deal with a budget deficit far in excess of EU targets, could suffer a further downturn.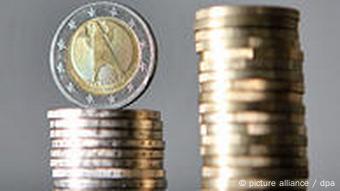 The jobless rate was the highest in the history of the euro

Germany's unemployment rate stood at 8.6 percent, according to figures released on Thursday.
Figures for the EU as a whole stood at 9.6 percent for December, up from 9.5 percent. During the month, there was a net increase of 163,000 unemployed across the 27-member EU with the total number of jobless at 23 million.
Figures expected to rise
Some analysts said they believed the unemployment figures would continue to rise.
"Although the rise in the euro-zone unemployment has slowed in recent months it still seems poised to trend higher during much, if not all, of 2010," said IHS Global Insight analyst Howard Archer.
Eurostat also said that inflation had increased to a level of one percent for January, up from 0.7 percent six months earlier.
The rising prices come at a time when the value of the euro is sinking compared with the dollar - down to $1.40 from $1.50 in November.
rc/AFP/dpa/AP
Editor: Nancy Isenson