Preliminary figures from the European Commission's statistics office, Eurostat, showed consumer prices fell more than forecast from minus 0.1 per cent in June to minus 0.6 per cent this month. Economists had forecast a drop to minus 0.4 per cent in July.
Weaker energy and food prices are believed to be central to the overall predicted drop.
But dwindling consumer prices have also helped to stoke fears about the threat of deflation, which in turn could undercut hopes of an early rebound in the eurozone economy from what has been its deepest downturn in more than 60 years.
The eurozone economy shrank by 4.8 percent year-on-year during the first three months of 2009.
However, European Central Bank (ECB) chief Jean-Claude Trichet has insisted that the negative inflation in the eurozone was likely to be short-lived. Trichet told a press conference this month that the latest consumer price data reflected only temporary effects.
Contradicting Trichet, the International Monetary Fund said in a report published Thursday that its analysts "saw a small risk of sustained deflation," adding that the eurozone would have to wait until the first half of 2010 for any signs of a "modest recovery."
"The recovery is likely to be slow and subject to considerable risks. The decline in activity should moderate through the remainder of 2009 and give way to a modest recovery starting in the first half of 2010," the report said.
Deflation is basically the decrease in the average price of goods and services, and occurs when the inflation rate drops below zero. If left unchecked, deflation can lead to decreased production and lower wages, which in turn cause lower demand and further decreases in prices - also known as a deflationary spiral.
21 million jobless Europeans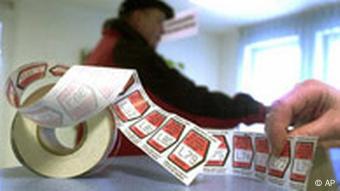 More hands will be reaching for tickets at employment centers across Europe
Ahead of the release of the eurozone inflation data, the German statistics office said annual inflation in Europe's biggest economy slipped to minus 0.6 percent from zero in June. The decline was bigger than the minus 0.4 percent forecast by economists.
Friday's publication of the latest eurozone inflation data comes in the lead up to next week's meeting of the ECB's 22-head rate-setting council.
Also released Friday were the latest eurozone unemployment data for June, which showed a 0.1 percent rise in the jobless rate, pushing the figure to 9.4 percent. In June 2008, unemployment in the currency bloc stood at around 7.5 percent.
"With the economy still in recession and any recovery likely to be sluggish, unemployment, unfortunately, looks set to continue to rise this year and next," said ING Bank economist Martin van Vliet.
The latest jump pushes eurozone unemployment to its highest level in a decade.
Eurostat said that the jobless rate in the broader 27-nation European Union shifted up to 8.9 percent in June, up from 8.8 percent in May. That corresponds to around 21.5 million Europeans out of work.
Unemployment rates in the Baltic countries Estonia and Latvia both passed 17 percent, while in Spain the jobless level hit 18.1 percent for June.
dfm/dpa/AFP
Editor: Neil King