European Union foreign policy head Catherine Ashton has hailed the transfer of former Bosnian Serb army chief Ratko Mladic to a UN court as a key moment for international justice.
"I welcome the transfer of Ratko Mladic to the International Criminal Court for the former Yugoslavia (ICTY) in The Hague," Ashton said in a statement. "This is an important moment for reconciliation in the region and for international justice."
Mladic was flown out of Serbia on Tuesday and remanded in custody at the ICTY in The Hague to await trail on charges of genocide and war crimes for his role in the 1990s Bosnian war. Mladic has been on the run for almost 16 years.
The court said Wednesday that Mladic would be arraigned on Friday.
Ashton said a trial of Mladic would "contribute to revealing the truth and will fulfill a duty to provide justice for the victims and their families."
German Foreign Minister Guido Westerwelle also welcomed Mladic's extradition, saying it was "a strong signal for the increased power of international law."
"It's a late but welcome victory for the victims of his crimes," he added.
Mladic faces war crimes charges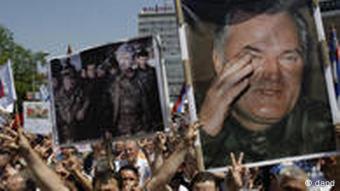 Mladic still has many supporters in Bosnia
Mladic is suspected of masterminding the 1994 massacre of about 8,000 Muslim men and boys in the town of Srebrenica during the 1992-1995 war in Bosnia. He also faces charges in connection with the 44-month siege of the Bosnian capital Sarajevo in which some 10,000 people died.
Serbian Justice Minister Snezana Malovic confirmed Tuesday that Mladic had left Belgrade on an airplane just hours after a Serbian court rejected his extradition appeal.
Mladic's extradition was ordered last Friday but there was a 72-hour delay for defense lawyers to make the appeal.
Before a decision was reached on his appeal, Mladic visited the grave of his daughter Ana. She is thought to have committed suicide at age 23 in 1994.
Meanwhile, thousands of demonstrators gathered in Banja Luka, Bosnia. Many of those in attendance were veterans of the Bosnian War, and pledged their support to Mladic.
Mladic was captured last week at the farmhouse of a relative after 16 years on the run. He was the most-wanted suspect by the ICTY before his arrest. The European Union made Mladic's capture one of the requirements for Serbia's potential EU accession.
Author: Gregg Benzow, Matt Zuvela (Reuters, AFP, dpa)
Editor: Martin Kuebler