The EU said in a statement Thursday the 10 individuals included "high-ranking military officials and senior figures" linked to Syrian President Bashar al-Assad's government.
This decision means that 217 people are currently targeted by a travel ban and an asset freeze for the violent repression against the civilian population in Syria, the statement said. The names of the officials are expected to be published on Friday.
The European Council, which represents EU member states, also has sanctions in place against 69 entities linked to the regime, as well as an oil embargo, a freeze on Syrian central bank assets, and restrictions on investments and technology exports to Syria. Those broader measures were extended in May and run until June 2017.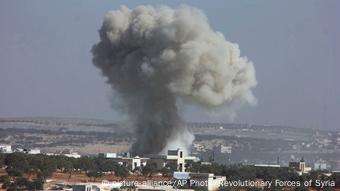 Up to 300,000 civilians are believed to be trapped in Aleppo
Aleppo siege
In recent weeks, the EU has voiced increasing concerns over a Syrian government-led bombing campaign against rebel forces in Aleppo. Thousands of civilians are believed to be trapped in the besieged northern city with limited access to food and medical supplies. Countries in the EU have said the shelling of civilian areas, supported by Russia, could amount to war crimes.
The United Nations vowed on Thursday to stick to its plan to get food into the rebel-held eastern part of the city and secure medical evacuations of hundreds of sick and wounded.
"We are not giving up," UN humanitarian adviser Jan Egeland told reporters in Geneva on Thursday. He added that a lack of trust, as well as increased fear and unacceptable preconditions on both sides have stymied past efforts to get civilians out of Aleppo.
Airstrikes by Russian and Syrian government planes on the city have been halted for nine days now in anticipation of the evacuations, but efforts have failed because Syrian rebels say there have been no safety guarantees.
Up to 300,000 civilians have been killed and millions have been forced from their homes because of the war in Syria, which began in 2011 as an uprising against the Assad government.
nm/sms (Reuters, AP, dpa, AFP)