Russia's deputy foreign minister said a renewed ceasefire in Aleppo would be irrelevant at the moment, citing diplomatic tensions and a failure on the part of the US-led coalition to rein in anti-government forces.
Sergei Ryabkov told Interfax news agency that the three-day ceasefire last week had failed. "Over the last three days, what was needed did not happen," he said.
The official went on to blame the US and its allies, saying they spent too much time criticizing President Bashar al-Assad and not enough time exerting pressure on the fighters it supported.
Moscow has long accused the coalition forces of backing terrorists, and has insisted that Washington work to separate "moderate" rebels from the extremist groups fighting alongside them.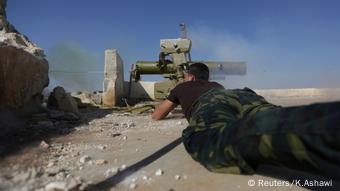 A rebel fighter near the city of Aleppo
Fighting resumes
He also cast doubt on any real diplomatic breakthroughs being made before the US presidential election on November 8. "It's almost no time until the US elections. To be honest, I don't see the conditions for a ministerial meeting," he said, noting that a similar meeting in Lausanne on October 15 failed to make headway.
Russia agreed to the brief ceasefire last week amid growing pressure over its aerial bombardments of rebel-held areas of the city, which has become the focal point of the brutal civil war. Moscow said the pause in hostilities was a "manifestation of goodwill" in order to allow trapped civilians and rebel fighters to escape the city.
However, the UN, which was intended to aid in the evacuations, as well as provide humanitarian aid, said it was unable to carry out its duties due to a lack of security guarantees.
The president of the German section of the aid organization Doctors Without Borders, Volker Westerbarkey, said that nothing had been achieved from the ceasefire, noting that people are still trapped without necessary supplies.
blc/jm (dpa, Reuters, AFP)